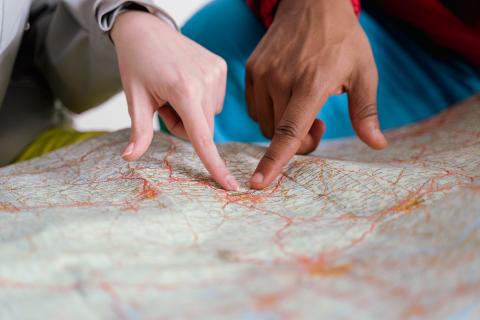 Financial support for studies abroad
Students enroled at Université Paris-Saclay can benefit, under certain conditions, from financial support for their international mobility within the framework of an exchange programme or an internship.
ELIGIBILITY CRITERIA
Enrolment at Université Paris-Saclay for the year concerned by the mobility experience. The enrolment year must not be the first year of enrolment in a higher education institution in France

Initial training outside work study programmes

Level of studies: from 2nd year to Master's (6th year for medical studies). For an internship, as of the end of the 1st year of higher education studies.

Eligible degrees and trainings (non exhaustive list) : two-year technical degree, DEUST - French 2-year scientific and technical university degree, Bachelor, Master, Engineering Degree, Medicine, Pharmacy

Mobility validated within the study curriculum (gap year mobility is not eligible)

Mobility for a minimum duration of 2 months (outside of closing periods of the host institution) from date to date (except for international Bonus whose minimum duration is one month). The dates of stay must correspond to the first and last day of compulsory presence in the host institution

Mobility which is not funded by a French or international organisation; monthly internship allowance up to 600 € can be received concurrently

Within the framework of their studies at Université Paris-Saclay, students cannot benefit from more than nine months of mobility support, except in the case of the Erasmus+ programme which allows for one gratification per study cycle.

International students cannot complete their internship within their country of origin.
Application of students doing an internship must be received at the latest 2 weeks before their departure.
AMOUNT OF FINANCIAL SUPPORT FOR MOBILITY IN 2021/2022
Additional criterion: grant holder on social criteria or recipient of the National Emergency Assistance Fund.
Additional criterion: household allowance (household allowance = global gross revenu of affiliated fiscal household/number of fiscal units) below or equal to 15,000 €. If students are financially independent, their gross revenue must be above 8,799.72 € and their household must be distinct from their parents'.
360 €/month
Additional criterion: household allowance included between 15,000 € and 19,190 €.
Study mobility: 210 €/month (group 3), 270 €/month (group 2) or 330 €/month (group 1)
Additional criterion: mobility for at least one semester in an eligible country.
Countries in group 3: Slovenia, Estonia, Latvia, Croatia, Slovakia, Check Republic, Lithuania, Turkey, Hungary, Poland, Rumania, Bulgaria, Macedonia
Countries in group 2: Netherlands, Austria, Belgium, Germany, Italy, Spain, Cyprus, Greece, Malta, Portugal
Countries in group 1: Norway, Denmark, Luxemburg, Iceland, Sweden, Ireland, Finland, Liechtenstein.
Internship mobility: 360 €/month (group 3), 420 €/month (group 2) or 480 €/month (group 1)
Additional criterion: mobility in an eligible country.
Students with disabilities:
An additional fee (study or internship mobility) may be awarded to students with disabilities. Contact outgoing.international@universite-paris-saclay.fr to apply.
International bonus:  1 payment of 400 €
For students ineligible to financial support above and first mobility within studies at Université Paris-Saclay. Mobility experiences are eligible from one month.
APPLICATIONS
IMPORTANT
♦ To apply for financial support, go to the outgoing student portal and complete the form "Demandez une aide à la mobilité"
♦ The Department for International and European Affairs will give you the most advantageous financial support depending on your situation at the date of submission and on available funds.
♦ Any incomplete application will not be processed.
♦ The available financial support cannot be combined and is not automatic. They are calculated based to the day of mobility, subject to exceptions.
---
The following documents must be submitted:
Public liability insurance certificate valid abroad for the whole duration of the stay (the name of the country / region of destination must be stated clearly)
Bank account identification to your name
Last personal income tax statement from your parents or parent or tutor to whom you are fiscally affiliated or your own if you are fiscally independent
Family record book, birth certificate or guardianship decision
Notification of CROUS grant allocation for 2020/2021 (only for grant holders)
Notification of former mobility support allocation (if you have already received financial support)
Rent receipt or certificate of accommodation (only if you are fiscally independent with an income above 8,799.72 € (excluding child support) or if you are unable to provide an income tax statement in France but have received gross average monthly salary of at least 360 € over the last 12 months (include salary slips).
Study and research grant in Germany in2021/2022:
CONTACT
Department for International and European Affairs
Université Paris-Saclay
Bâtiment 300
Rue du Château
91405 Orsay Cedex