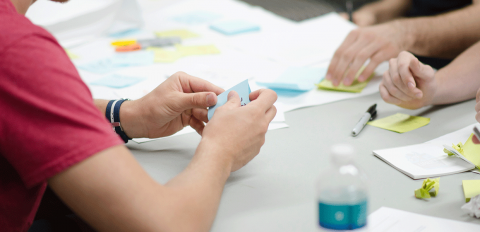 Student entrepreneurship at Université Paris-Saclay
Are you looking to take on new challenges? Make a positive impact on the world? Embark on an entrepreneurial adventure? Université Paris-Saclay and the Paris-Saclay student entrepreneur network, the Pépite PEIPS, offer its students support and tools to assist them in their project, from the initial idea to creating a business!
At Université Paris-Saclay, the Entrepreneurship Department of the Direction de la Formation et de la Réussite (Department for Education and Success) provides a range of resources enabling students to:
explore entrepreneurship
develop an idea
receive support to turn projects into realities
learn how to create a business through university degrees focused on entrepreneurship.
These actions are coordinated with the Pépite PEIPS programmes.
Find out more about entrepreneurship.
In the Pépite PEIPS
The Pépite PEIPS is designed for students, PhD candidates and recent graduates from the Paris-Saclay region who already have an entrepreneurial desire or project in mind. It provides access to tools, support and additional resources to complement your original study paths. As part of a network with Pépite Ile-de-France and Pépite France, it offers you a wide range of advantages and opportunities at every level to develop your project!
Find out more about the Pépite PEIPS.