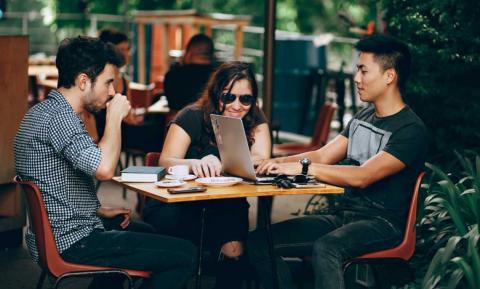 International mentoring programme - Buddy programme
The Buddy Programme is a free international mentoring programme for international students who have just arrived in France.
Appel à projets Buddy Programme
Vous êtes un étudiant ou membre du personnel, au sein d'une association étudiante, d'un établissement ou d'une Graduate School de l'Université Paris-Saclay ?
Vous souhaitez contribuer à l'intégration des étudiants internationaux et bénéficier d'un financement pour réaliser un projet ?
Cliquez ici pour découvrir l'appel à projets Buddy Programme !
Il permet aux parrains / marraines : de découvrir de nouvelles cultures et d'échanger avec des étudiantes et étudiants venus du monde entier. Le programme de parrainage est aussi l'occasion de pratiquer une langue étrangère ou encore d'en apprendre plus sur un pays en particulier.
It gives international students the possibility to receive support in the administratives procedures, better integrate on campus and in France. The Buddies will be able to meet during events and cultural or sports activites organised by the university.
You are a student or PhD student enrolled in one of University of Paris-Saclay institution.
You have been studying at University Paris Saclay for at least 1 year or you know the campus and the surrounding cities well enough
You speak good French 
You have some free time especially at the beginning of the semester
You are sensitive to cultural and international issues
You are a good listener, able to empathize and build trust.
And above all you want to help international students integrate in France, help them discover their host institution, student life and French culture? Then the Buddy Programme is made for you.
University Paris-Saclay will not leave you alone and will plan an interactive and fun training to best prepare you for this adventure.
Any student coming from abroad and enrolled at a member institution of Université Paris-Saclay as an exchange student or in the frame of an individual mobility.
Il est recommandé de s'inscrire au Buddy Programme avant le début du semestre mais il est également possible de s'inscrire au cours du semestre.
A commitment from the mentors will be required throughout the semester, in order to best respond to the problems of integration of international students.
Mentors are invited to contact their « mentee » ideally before their arrival, in order to encourage a first contact relatively early. Activities and events will be offered to the Buddies throughout the year.
Pour vous inscrire au Buddy Programme, vous devez remplir le formulaire ci-dessous.
En vous inscrivant au Buddy Programme, vous déclarez que :
Vous avez reçu une confirmation d'inscription d'un établissement-composante de l'Université Paris-Saclay
You must read and accept the Charter of the Buddy Programme of Université Paris-Saclay
Après avoir renseigné votre nom et votre prénom, vous devez sélectionner la ville de votre campus universitaire (et non votre ville de résidence), puis vous pourrez sélectionner votre établissement. Remplissez votre profil intégralement afin de maximiser les chances de trouver un Buddy qui vous correspond !
Un doute sur la ville à sélectionner ? Voici un tableau récapitulatif des établissements – campus – villes associées
Important: si vous rencontrez des difficultés techniques dans Safari pour valider votre formulaire d'inscription, veuillez réessayer via un autre navigateur (Mozilla Firefox, Chrome ...) ou via ce lien.
Published on : 16 November 2020