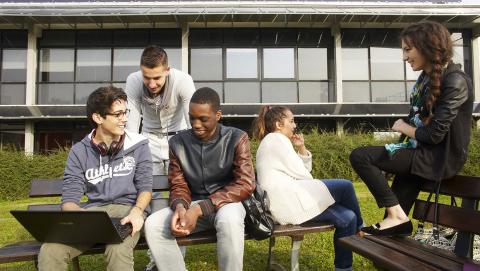 The cost of higher education in France
As a student at a French university, you must contribute to the following fees:
Student and Campus Life Contribution - CVEC
University fees
Payment of the Student and Campus Life Contribution (CVEC)
Before registering at the University, you must obtain proof of payment of the student life and campus contribution(CVEC) to CROUS. To do this, please go to https://www.messervices.etudiant.gouv.fr/
This contribution provides social, health, cultural and sports support for students. The total amount for the CVEC is €100 (academic year 2023-2024).
Students concerned must download the certificate of payment after having paid the contribution or after having justified their exemption.
Students granted scholarships on social grounds, refugees, persons benefiting from subsidiary protection and asylum seekers will be exempt from paying the CVEC but must log in to obtain a CVEC certificate number.
Find out about the student services funded by CVEC on the designated page.
University fees for the year 2023-2024
Administrative registration must be completed before the start of each academic year and must be validated before the start of courses. To finalise your administrative registration, you must provide all the required documents and pay the registration fee. Only administrative registration confers student status. It allows you to sit the exams and obtain your degree.
National tariffs
| | | |
| --- | --- | --- |
| Cursus Licence | Cursus Master | Cursus Doctorat |
| 170€ | 243€ | 380€ |
Tariffs applicable to Université Paris-Saclay
Document in French :

Payment by instalments
You can pay your registration fee in 3 instalments by credit card only.
Exemption
If you have an exemption, you must provide proof of this when you register.
The decision to exempt Lebanese students by decree only concerned the year 2020-2021.
'Differentiated tuition fees' for non-EU students
*For non-EU students
In line with the resolution voted by the Board of Governors on 15 December 2020, Université Paris-Saclay intends to develop a strong policy of attracting national, European and non-EU students.
As a result, for the year 2022-2023, accepted candidates affected by the decree and order relating to registration fees in public higher education establishments under the authority of the Minister in charge of higher education will have to pay the same amount of registration fees as national students without having to explicitly request it.
This partial exemption will apply for the entire duration of the study cycle, including if a year has to be repeated.