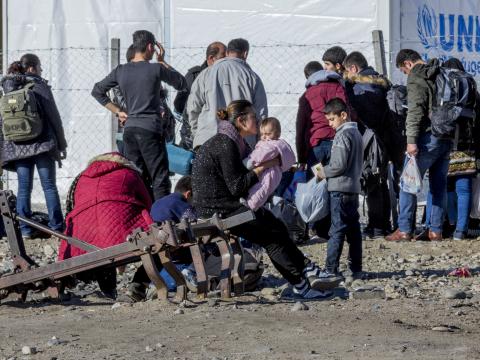 Thibaut Fleury Graff - international law to aid refugees and migrants
Thibaut Fleury Graff is a university professor of public law and a researcher at the Versailles Saint-Quentin Public Institutions Research Centre (VIP – Univ. Paris-Saclay, UVSQ). He is committed to guaranteeing fundamental rights, including the right to asylum, and is involved in this in multiple ways.
Thibaut Fleury Graff studied law at Université de Strasbourg from the year 2000 to 2004. At first, he was unsure as to whether to study cultural organisation or law. "However, I quickly realised that an academic career in law would give me the intellectual freedom and independence in a stable setting which I was looking for." From then on, he became interested in the fundamental and historical aspects of the legal system and completed a DEA (now equivalent to a Master's degree) in the philosophy of law and political law at Université Paris 2 Panthéon – Assas. "Philosophy taught me that law is not just a collection of rules which different key players apply, but is also a collection of political and moral considerations which cannot be ignored if you want to understand it."
In 2005, he was offered a doctoral contract at the same university, provided tutorials at Université de Versailles - Saint-Quentin-en-Yvelines (UVSQ) and started to write a thesis entitled 'The question of territory in the United States from 1789 to 1914 - a factor in the development of international law'. He looked at the way in which the country was created as a federal state using international law, in particular through the issue of how jurisdiction was distributed throughout the land. This led him to spend a year in the United States at New York University between 2008 and 2009. On his return, he became a temporary lecturing and research associate at Université Paris 2 Panthéon – Assas and defended his thesis in June 2011. He then worked for nearly a year as a consultant for a law firm and for the Council of Europe. "This was an important experience as I'd just finished a period of very theoretical work. I was suddenly involved in very real issues with very tight deadlines. I also discovered to what extent the practice helped the teaching and vice versa. "
Linking the professional world to the academic world
In 2012, he accepted a position at UVSQ as a lecturer. Keen to create links between the professional world and that of academia, he secured a partnership between the Council of Europe and the university which allowed students to write case summaries. These reports cover the case law in the European Court of Human Rights and the activities of the various committees through which the Council monitors the proper application of treaties. These reports circulate to all State members and give students the opportunity to work (in English) on real cases and on behalf of a large international organisation. This then facilitates students' professional integration. 
Research and practice in asylum law  
In 2014, the researcher successfully passed his 'agrégation' (teaching qualification) and was offered a post as a university lecturer at Université de Rennes 1. "I wanted to maintain my broad background and deal with a wide range of issues, while specialising in territorial and border issues. These subjects are also close to those of immigration and the status of foreigners." Thibaut Fleury Graff works for the United Nations High Commissioner for Refugees (UNHCR) in this area, which recruited him in 2014 as a consultant specialising in asylum and migration issues. "In this capacity, I sit as an assessor judge on the National Court of Asylum. This means I'm again using my knowledge in an instructive, practical way." He regularly rules on the cases of people whose applications for asylum have been rejected and who are contesting this decision "The legal issues this raises require a certain amount of historical and geopolitical knowledge, which is exciting." 
Several publications
Thibaut Fleury-Graff has published many papers, as well as books. In 2016, the Manuel de droit international public (Handbook of Public International Law) was published, which deals with the subject in a broad manner. A second edition is expected to appear in 2022. In 2019, he published Droit de l'asile (Asylum Law) together with his colleague, Alexis Marie. This subject has not been the focus of any recent up-to-date works as the laws change a lot and also concern rather technical legislation, so this guide is now used as the main source of reference. It sets out the international, European and national asylum rules which govern the granting of international protection to those who are persecuted in their country of origin.
The creation of the RefWar project
The pair have also set up the RefWar project with their colleague, Julian Fernandez. This has received funding from the National Research Agency. It focuses on the protection of war refugees in France and aims, among other things, to better understand the origins of these migrations, the traumas the people have suffered and the rights they are entitled to. Within this context, they have created a university diploma on the right to asylum at Paris 2 Panthéon - Assas and a legal clinic at UVSQ. This format presents students with practical cases. The project also includes numerous scientific events. "At the start of November 2021, we organised the 'Migration and international law' conference at the National Museum of Immigration History in partnership with the French Society for International Law."
Participation in the International law association
Asylum issues are part of the much broader context of international migration, which has been increasing in recent years. "The UNHCR estimates that the past decade has seen the highest level of international migration since the end of the Second World War." This has led Thibaut Fleury Graff to get involved with the issue and in 2021 he co-created a committee on international migration within the International law association. This is a non-profit scientific organisation which promotes respect for and the development of international law. This law is still relatively undeveloped for international migrants, i.e. all people who leave their country of origin to settle in another country for one reason or another. "These fields of research have only started to emerge since the 2010s when dramatic situations increased and their media coverage raised awareness within the international community." 
Management of the Law Graduate School at Université Paris-Saclay
Thibaut Fleury Graff, who has been carrying out his research in international law at UVSQ since 2019, has recently taken on new responsibilities. He is now jointly directing the Master 2 on fundamental rights in International and European law as well as directing the Law Graduate School at Université Paris-Saclay. This establishment, which was set up in Spring 2021, is leading training and research at Master's and Doctoral level. It comprises nine Master's tracks, over 40 Master's 2 courses, several laboratories and research programmes, as well as doctoral schools. "It's an important project and a great challenge because of its size and the different institutional approaches which all need to be coordinated. It's also our goal to build a leading institution with a focus on law within a University known above all for the so-called 'hard' sciences." Next spring, a major graduation ceremony at the Palais des Congrès in Versailles, which will also serve as the official launch of the Graduate School, is expected to bring together around 800 people.