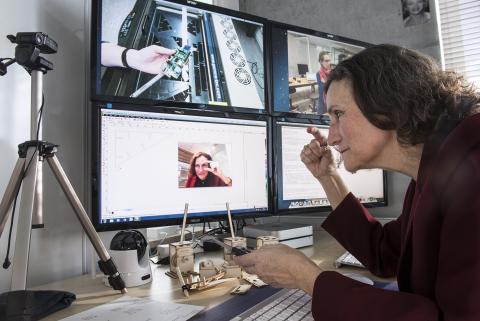 Wendy Mackay: People and computers, a pleasure shared
Wendy Mackay is a research director at Inria Saclay. She runs the human-machine interaction (HMI) research group Ex-Situ, shared with Laboratoire de Recherche en Informatique (LRI - Université Paris-Saclay, CNRS). This researcher, who is internationally renowned in her field, is a member of the ACM SIGCHI Academy (Association for Computing Machinery - Special Interest Group on Computer-Human Interaction), holds an honorary doctorate from Aarhus University in Denmark and was appointed an ACM Fellow in January 2020, a distinction reserved for only a handful of researchers. In early November 2020, she also received the Suffrage Science Award from the MRC London Institute of Medical Sciences, which recognises women's achievements in Science, Technology, Engineering and Mathematics (STEM).
Wendy Mackay's thoroughly atypical career highlights the originality of her thriving research field. Not so long ago, when the concept of personal computers was only just emerging, this young Canadian woman was studying experimental psychology at the University of California in San Diego (UCSD), then at Northeastern University. Job opportunities in the field were few and far between. She eventually ended up at Digital Equipment Corporation (DEC), where she spent five years creating around thirty computer interfaces, including the first commercially available interactive computer video device. The draw of research got the better of her, however: Wendy Mackay defended her thesis in technological innovation management at the Massachusetts Institute of Technology (MIT) in 1990 before joining the prestigious Xerox Parc research centre in Cambridge. Shortly afterwards, she met researcher Michel Beaudouin-Lafon at Laboratoire de Recherche en Informatique (LRI - Université Paris-Saclay, CNRS), and they got married. She then spent two years at the University of Aarhus, returning to France and joining Inria in 2000. She founded the In-Situ research group at LRI, devoted to HMI.
People and computers as partners
Wendy Mackay wants to make it clear straight off the bat: "I don't work solely with IT. I am interested in human beings and how they interact with machines. It really is an interaction, not an interface." People and machines are different and complementary. The real challenge lies in understanding how they help each other: "The goal of machines is to help people achieve more and do things better." In the researcher's words, this is a "human-machine partnership". "We assume that an algorithm designed to help human beings is liable to reduce their skills", explained Wendy Mackay. She then studied how to engineer interactions that actually allowed users to increase their skills when using intelligent systems. "Human beings can do things that computers can't, and vice versa. For example, seeing a computer that can play chess is impressive. On the other hand, humour is something they still find very hard to grasp."
Enriching machines in order to develop human skills
"Artificial intelligence is still along way away from the abilities of our brain," observed Wendy Mackay, who drew on her training as a psychologist to examine how people interact with the physical world, and then with machines. "In the real world, for example, I can use a pen to write with, but I can also use it as a ruler for drawing a line. In the computing world, the only thing you can do with the tool is draw," the researcher said. Together with her husband, she worked on the instrumental interaction theory, which aims to rethink fundamentally the way interactive tools are created, in order to make them more powerful and easier to use. "People spend a lot of time typing on the screen of their phone. It is the same movement as for playing the piano, except you don't practise your expressiveness or your virtuosity, because phones aren't designed for that."
Boosting creativity
This is one reason why Wendy Mackay and her team work with artists from all fields: musicians, choreographers, graphic designers and other designers. "Creative people are always inventing things and incorporating new technologies into their work. We are working with them to explore innovative interactive technologies, using methods taken from several disciplines, so as to combine power and simplicity," explained the researcher, who was awarded an ERC grant in 2013 for a project on creating computer tools that can promote creativity without restricting it. "Most digital tools are designed to help users do something but assume that the users already know what they want to do. If they are not entirely sure, however, they need tools that will let them be creative."
Theorising design
HMI is very cross-sectoral: it involves information technology, psychology, sociology and, via design, methodology. "I am currently writing a book: "The Design Of Interactive Things" (or Do It!). It sets out a series of original methods for applying what I call generative theories. They are the fruit of this blend of disciplines and of my experience in research and industry." Wendy Mackay's laboratory is world-famous and draws in a steady stream of young researchers and new projects. "In contrast to the US or Asia, Europe believes that the human aspect of rolling out artificial intelligence systems is very important," the researcher was glad to note, in competition with the best laboratories on the planet. From this perspective, thanks to the critical mass it allows researchers to obtain, Université Paris-Saclay represents an "opportunity that any researcher should seize".
Photo credits: © Inria / Photo H.Raguet