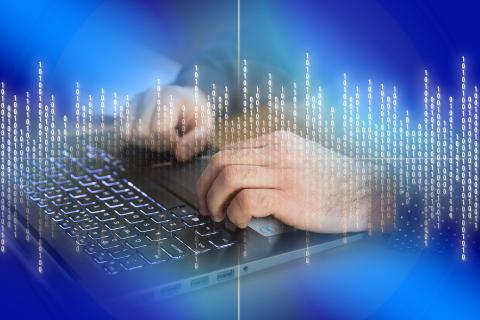 Shower of praise for human-computer interaction
Research conducted in the field of human-computer interaction at Inria Saclay has recently been recognised by ACM SIGCHI, the scientific hub of the Association for Computing Machinery (ACM). Researchers Jean-Daniel Fekete and Catherine Plaisant, from the AVIZ team (Analysis and Visualization) have been prized for their major contribution to this cutting-edge field of study at Université Paris-Saclay.
Swiping through emails with a finger on a touch pad, replying from your computer keyboard, sending them with a click of a mouse... So many objects, interfaces and user experience which are now part and parcel of our daily lives and which mediate our interactions with computer systems. The field of study of human-computer interaction (HCI) focuses on the design, implementation and evaluation of interactive computer systems and interfaces. Closely tied to IT and the development of new technologies, HCI has made the interactive experience increasingly efficient and enjoyable for the user. Who isn't familiar with microphones with voice recognition features on PDAs which have recently changed users' habits and how they interact with computers?
But HCI is not only limited to computers and electronics; it also involves cognitive science, linguistics and psychology. We have to consider both human and machine capabilities, as well as their limitations. "Machines have a certain ability to calculate and humans a certain ability to reason. The crux of HCI is to increase the bandwidth between them,ˮ says Jean-Daniel Fekete, senior researcher at Inria Saclay and AVIZ (Analysis and Visualization) team manager. Her colleague Catherine Plaisant – a researcher at the University of Maryland, which is hosting an international Inria branch for 2018-2022 and who has joined the AVIZ team, is pushing another definition: "These techniques are increasing human capacity and transforming the experience people have with technology.ˮ
Better representation for better understanding
Beginning in 2020, the two researchers gained recognition from the Special Interest Group on Computer-Human Interaction (SIGCHI). This major centre of the Association for Computing Machinery (ACM) – the largest scientific organisation for computing – focuses on HCI and every year awards several major players. As such, Jean-Daniel Fekete has been brought onboard by the CHI Academy and Catherine Plaisant received the SIGCHI Lifetime Service Award.
 
With his team, Jean-Daniel Fekete is working in particular on the visualisation of data and networks. His arrival has been particularly rewarding for this work. His goal is to find methods to perceive datasets that are too large to be understood quickly, or which are potentially noisy. "With ten digits, we can create an easily readable table with ten or one hundred lines, with ten thousand digits or more, this is no longer possible," explains Jean-Daniel Fekete. "But by correctly using graphical representations of data, we very quickly and efficiently see a certain number of structures in the data. Much of our work in collaboration with psychologists of perception and cognition is to find methods of visualisation that provide the best perception without too much distortion.ˮ
The applications of his research are wide-ranging. For instance, these methods have made it possible for us to know more about the therapeutic course of millions of patients using data from the national health insurance fund (CNAM), and view the results of the 2019 national debate using the Cartolabe tool.
Rediscovering and sharing: the "Historical CHI Video" project
Internationally acclaimed for her work on the development of touch screens, human-computer interface design, data visualisation and medical IT, Catherine Plaisant is hosting an international Inria branch for 2018-2022. She is also working on data visualisation as part of the AVIZ team.
Recognised by the SIGCHI in 2015, which then admitted her to the CHI Academy, Plaisant has been awarded this year for her investment in the HCI community, through her Historical CHI Video project. The aim is to digitise and make available online the videos recorded at the SIGCHI's CHI conferences. Filmed between 1983 and 2002, these videos currently only exist in VHS format. "I always thought that the videos were important to explain our work's interaction mechanisms. It is difficult to understand a human-computer interaction system with no demonstration,ˮ says Plaisant. "But many videos presented in conferences or accompanying articles have never been digitised. So the work is not accessible."
The main challenge is to find the authors of the videos to gain their permission for online publishing. The project started in March 2019 and 84% of them have already given their approval. "Even if the video resolution is low, their explanations help us understand the system being shown. The video preserves the memory of the work,ˮ Catherine Plaisant is pleased to say. "These videos show that most of the things happening now on phones or tablets already existed in the 80s. We had to wait twenty to thirty years for them to be digested and for us to find these technologies in our everyday life. These videos are – and will continue to be – a strong source of inspiration. I think that watching them will allow us to take inspiration from the pioneers of interactive systems,ˮ says Jean-Daniel Fekete.
Université Paris-Saclay, a leader in HCI in France and abroad
In the past, three other members of Université Paris-Saclay have been recognised by the SIGCHI: Wendy Mackay, a researcher at the Computer Research Laboratory (LRI - Université Paris-Saclay, Inria), Michel Beaudoin-Lafon from the same laboratory who received the SIGCHI Lifetime Service Award, in 2014 and 2015 respectively, and Yves Guiard, also a member of the LRI, who was admitted to the CHI Academy in 2016. "This shows that Université Paris-Saclay is undoubtedly the most highly prized university in France in the field of HCI," said today's winner, Jean-Daniel Fekete. "It will continue to develop as a key hub of HCI: an opportunity for researchers, students and the university." 
"These last two awards once again show that Université Paris-Saclay's efforts are internationally recognised," added Catherine Plaisant. A major gauge of the progress of future research in human-computer interaction within the University.