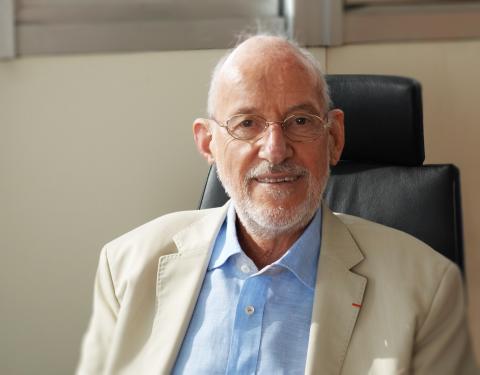 Patrick Couvreur: Nanomedicine Pioneer
Patrick Couvreur, professor emeritus at the Institut Galien Paris-Saclay (IGPS - Université Paris-Saclay, CNRS), is  pioneer in nanomedicine: therapeutic molecules directly targeting tissues and cells of patients with serious illnesses such as cancer or nervous-system disease. Patrick Couvreur's research is at the junction between galenics, materials chemistry, pharmacology and nanotechnology. Results of his multi-award-winning research has led to the creation of several innovative start-ups. The researcher is also a member of scientific academies in several European countries and the United States. He became president of the French National Academy of Pharmacy in 2020.
Patrick Couvreur studied pharmacy at the Catholic University of Louvain (Belgium) where he presented his thesis in galenic formulation - the art of administering medicine - and "a discipline that wasn't attracting much attention at the time". Friends attending the Institute of Cellular Pathology, then headed by Nobel Medicine 1974, Christian de Duve, inspired him to make miniature doses to penetrate cells with therapeutic molecules. 
The discovery of nanomedicine
He was using nanotechnology for drug vectorization when he met Peter Speiser, "the first scientist to use nanocapsules in vaccination". Patrick Couvreur completed his post-doctorate with Peter Speiser at the Polytechnic School of Zurich where he tried to encapsulate anticancer drugs in polyacrylamide nanocapsules. "Unfortunately, gamma rays required to prepare the nanovectors constantly damaged encapsulated drugs. After eight months of futile attempts, I decided to read an old chemistry book. That's where I discovered that fluorescein is one of the few molecules that resists radiation but does not spontaneously penetrate cells. Cells were lit up by the fluorescent marker encapsulated in nanocapsules," recalls Couvreur.
 
This discovery - back in 1977- lead to a first publication (Febs Letters) demonstrating that molecules encapsulated in a polymer nanocapsule can penetrate cells. One problem persisted: polyacrylamide capsules are not biodegradable and are therefore unsafe for use in humans. That's when Patrick Couvreur remembered a surgeon he had met during military service. "I used the same biodegradable glue that he used in his operations to make non-toxic biodegradable nanoparticles." The researcher's career was launched. He began publishing in a totally new field. He was not nominated as professor in Belgium, but he attracted the attention of Francis Puisieux, director of the chair of pharmacotechnics and biopharmaceutics at Université Paris-Sud. This "visionary" helped him to obtain a position as professor. In December 1984, Patrick Couvreur, aged 34, arrived in Châtenay-Malabry in the French Hauts-de-Seine department. The physicochemistry, pharmacotechnics and biopharmaceutics laboratory was soon created. It is now known as the Institut Galien Paris-Saclay. 
Improving therapies
Patrick Couvreur has been refining his discovery for 40 years. "Standard drugs are distributed in different organs, without selection and with insufficient concentration for the biological target. This often leads to side effects and a lack of pharmacological activity. Nanomedicine targets cells or subcellular compartments, organs and tissues. More selective drugs have a higher therapeutic index: effectiveness to toxicity ratio." This more efficient delivery of therapeutic molecules is made using nanovectors, ranging from several dozen to several hundred nanometers. Their size and shape must be characterised by researchers, to enable driving these nano-objects that are 70 times smaller than a red blood cell. "We recently discovered that the shape of nanovectors alters the distribution of the drug in the body." Using conjugated chemistry, Patrick Couvreur's team sometimes mounts them with ligands, so they can act like missiles, recognise receptors and lead the drug to its target. 
From dream to reality
Nanomedicine - considered an epiphenomenon until a decade ago - is now part of the therapeutic arsenal used in cancer treatment and neuroscience. There is now a wide range of nanomedicine on the market, often using lipids. But to get to this point, research results in the field had to be transferred to business. This was realised by Patrick Couvreur in a series of start-ups. "My training as a pharmacist motivated me to go into business. I wanted to put a drug on the market that serves patients before the end of my career." He created BioAlliance in 1997, now known as ONXEO and on the stock market since 2005. His start-up succeeded in taking a nanomedicine application for the treatment of primary liver cancer to phase III clinical trials. Other start-ups, MedSqual and SqualPharma were respectively created in France in 2007 and the United States in 2019. They were more attractive to venture capital. "We need to find $3M to $4M to complete the regulatory preclinical toxicological study," explains Couvreur about this nanomedicine and very confident about a rapid outcome.
Nanomedicine in pain treatment 
His team recently began working on pain management. "Most pain medication is based on morphine or its derivatives. This results in serious addictions that are a major public-health problem, particularly in the US, but also in Europe." Patrick Couvreur - a former athlete - thought endorphins might work. "They neutralise pain caused by stress without causing dependency. The problem is they are metabolised by the body very quickly. If we can protect them and target them at the exact site of pain, without going via the brain, we can create effective, non-addictive pain medication." His team developed technology for encapsulating pain-relieving peptides called enkephalins, into nanoparticles using squalene, a natural lipid. "Sinda Lepêtre, a chemist on the team, succeeded in coupling the peptides with squalene molecules that assemble together in nanoparticle form. We have demonstrated that they can target inflammatory pain, release intact peptide there, thus causing prolonged pain relief without addiction."
Four academies and one pandemic
More recently, Patrick Couvreur has taken an interest in the paradoxical inflammation appearing at the most advanced stage of Covid-19. "With thesis student Flavio Dormont and lecturer Mariana Varna, we had investigated septic shock well before the appearance of SARS-CoV-2. We tested multidrug nanoparticles, consisting of an antioxidant (vitamin E) and an anti-inflammatory drug (adenosine), and showed that uncontrolled inflammation could be cured in an animal model," the researcher tells. This work, published in the journal Science Advances in April 2020 in the midst of the pandemic, shows the potential of nanomedicine in the fight against this pathology.
Patrick Couvreur revels in the multitasking nature of his job which combines research and teaching with the need to find funding and communicate abroad. As professor emeritus, he is still very active in the Institut Galien Paris-Saclay, and in the four French academies he belongs to: sciences, medicine, technology and pharmacy, of which he is currently chair. He is proud of actions taken to enlighten governments and the general public, particularly about the pandemic. "For the first time, the academies of sciences, medicine and pharmacy have communicated a common opinion about Covid-19 clinical trials carried out in France. Copious and rushed, conducted without coordination, and often with methodological bias, they have not all contributed to relevant conclusions."
Patrick Couvreur is convinced that the interdisciplinary of the basic sciences is the driver of innovation. "Having so many different brains together on the same site is one of the strengths of Université Paris-Saclay. During my career, I have had the opportunity to meet people from different disciplines and international cultures who have inspired me with ideas for my pioneering work in nanomedicine. When you have an idea, you must persevere, despite failures or preconceived notions. It's important that young people are ambitious and dream, thinking they too will become a great scientist one day," concludes Patrick Couvreur.
HiCiSci
Patrick Couvreur has published over 550 research articles in prestigious journals such as Nature Nanotechnology, Nature Materials, Nature Communications, Science Advances, Proceedings of the National Academy of Sciences, Angewandte Chemie, Cancer Research and Journal of the American Chemical Society.
He is the inventor behind over 90 patents and has published 8 books. 
Distinctions 
Pharmaceutical Sciences World Congress Award, 2004
Host-Madsen Medal, 2007 
Innovation Grand prix of L'Usine Nouvelle 2008
Prix Galien 2009
European Pharmaceutical Scientist Award, 2011
CNRS Innovation Medal 2012 
European Inventor Award, 2013
Peter Speiser Award, 2014
Takeru Higuchi Award, 2016
Grand Prix Achille Bel, 2020
Academic recognition
Technological Innovations Chair of the Collège de France (2009-2010) 
Senior member of the Institut Universitaire de France (IUF).
Director of Institut Galien Paris-Saclay from 1998 to 2010. 
Creator of the Therapeutic Innovation doctorate schoolin 2000 which he directed until 2006. 
Founding member of the MEDICEN competitiveness cluster.
Extraordinary professor at the Catholic University of Louvain (Belgium).
Holder of an ERC Advanced Grant (2010-2015) and an ERC Proof of concept (2015-2016).
Chairman of an ERC panel (LS-7 medicine) for the 4th time.
Executive committee member of numerous national and international organisations.
Member of the Academy of Sciences, the Academy of Technology, the National Academy of Medicine and President of the National Academy of Pharmacy. He is also international member of the US National Academy of Medicine, the US National Academy of Engineering, the Royal Academy of Medicine (Belgium) and the Real Academia Nacional de Farmacia (Spain).