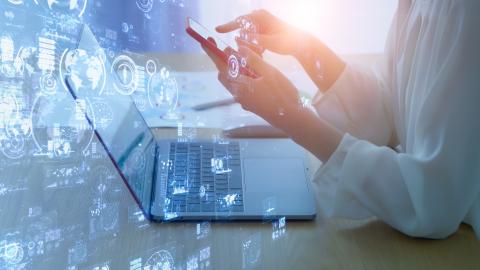 Michel Beaudouin-Lafon: seeing IT as a collaborative tool
Michel Beaudouin-Lafon is a Computer Science professor at Université Paris-Saclay, deputy director at the Interdisciplinary laboratory of digital sciences (LISN - Université Paris-Saclay, CNRS, CentraleSupélec, Inria) and a human-machine interaction (HCI) specialist. He has been awarded a 2022 silver medal by the CNRS for the originality, quality and importance of the work he has been carrying out at the University for 40 years. 
After completing a baccalaureate in science and the 2-year preparatory course for the competitive exams, Michel Beaudouin-Lafon began his higher education studies in 1979 at the École Nationale Supérieure d'électronique, électrotechnique, informatique et hydraulique de Toulouse (ENSEEIHT). In 1982, he obtained an engineering degree in computer science and applied mathematics. At the same time, he also obtained an advanced studies diploma (DEA) in computer science at Université Paul Sabatier de Toulouse. Computer science was nowhere near its current standards. "We were programming on 'primitive' terminals.  During my internship, we had to print out our programs in the basement in order to see them. Twice a day, someone would come by with a trolley and distribute the printed listings," remembers Michel Beaudouin-Lafon with amusement. "I started out using punch cards. When they were sent to the university's mainframe computer, it took until the following day to get the results." 
Computer science in the 1980s was both "easier and more complicated," according to Michel Beaudouin-Lafon. "Easier because of a lack of knowledge about what others were doing, as there was no Internet back then. There was also a sense of freedom. You could risk doing the same thing as someone else, but in a different way. There were so many things to invent!"
"I'm an immobilism behemoth"
As a new graduate, Michel Beaudouin-Lafon was not attracted by the 'traditional' career path of a computer engineer at the time. He found out about the world of research when he moved to the Paris region. "It was by chance that I found myself at the computer science research Laboratory (LRI, which later became the LISN in 2021) in the autumn of 1982. Gérard Guiho, the director of the team, found me funding and I started a PhD. Thanks to this, I started making graphical interfaces and studying HMI without knowing that this existed as a research subject."
He defended his thesis on advanced graphical interfaces in 1985. Since then, having been deputy director and then director of the LRI between 1998 and 2009, and deputy director of the LISN since March 2022, Michel Beaudouin-Lafon has seen no need to leave the laboratory in Orsay. "By the end of 2022, it'll be exactly 40 years that I've been here. I'm an immobilism behemoth," he laughs. "It always makes me smile when mobility is touted as the key to success. I do think it has some merits though. I enjoyed a sabbatical year in 1992, followed by a secondment to Aarhus University in Denmark between 1998 and 2000, and one more recently to Stanford University." In 2011, he became a senior member of the Institut universitaire de France (IUF) and in 2015, he was awarded an Advanced grant by the European Research Council (ERC) for his research work.
HMI and the collaborative approach at the heart of his career
HMI at Université Paris-Saclay is a discipline largely led by Michel Beaudouin-Lafon. "I'm interested at the moment in the fundamental aspects of our ability to interact. We're working, together with my PhD students, on tools and on how to transfer our ability to work with tools from the physical world to the digital world. I'm also interested in large-scale interactions, currently by using the prototypes on our WILD and WILDER video walls. These will become more widespread in the future. Collaborative work interests me a lot as well. Personal computers and personal computing have been invented, but everything is collaborative. Perhaps it's time to put this at the heart of the tools we use." This is one of the aims of the CONTINUUM 'equipements d'excellence' project, for which Michel Beaudouin-Lafon oversees the science. This project is aiming to interconnect 30 platforms throughout France in order to promote remote collaborative work between large interactive spaces.
This is the motivation which has pushed Michel Beaudouin-Lafon and his Danish colleagues at Aarhus University to create Webstrates, an experimental system capable of sharing in real time the content of any web page hosted on a server. Every change made on a page can be seen in real time. "We've abolished the distinction between the content and the interface. You don't have to edit your page using an imposed interface. It's a chance to rethink sharing and collaboration on the Internet." In the same way, Michel Beaudouin-Lafon and 80 teams spread across France have recently presented the eNSEMBLE project on the future of collaborative work at the Future investments program (PIA 4). "Our idea is that the present situation where everything is owned by a few companies (Meta, Google, Zoom, etc.) is not acceptable," declares the research professor. With this project, the scientists want to take inspiration from the way e-mail works, where everyone sends and receives e-mails from their favourite server and e-mail client, and transfer this method to online document editors or video conferencing. "Since the start of the COVID-19 pandemic, I've used twelve video conferencing systems. Why are we all restricted to using the same system to access the same video conference? Everyone should be able to use their preferred client. The same applies to document sharing. We want to break it all up and create open standards."
The scientist has seen his discipline evolve. "The way research is carried out is much more precise nowadays, with observations, interviews with users and analysis of the results. We build a piece of the solution to the problems which emerge, and then we test it using controlled experiments or field studies." He also believes that HMI has been slow to prove its worth. "The problem is that if I make a successful interface, users will either not notice it or they will find it straightforward. The paradox is that for us, a mark of success is to create things which seem straightforward. However, making things easy is complicated!" 
Michel Beaudouin-Lafon, who was recently given a 2022 silver medal by the CNRS, sees this award as recognition for the entire discipline of HMI. "Although this silver medal honours me personally, it's also recognition of my field at an institutional level - a discipline I've experienced from the time when it didn't exist right up to the present day."
More than just research
Michel Beaudouin-Lafon is the author or co-author of over 200 publications. He has also founded the French-speaking HMI Association (AFIHM) and is a member of the learned society Association for computing machinery (ACM), as well as vice president of the Technology policy council. 
The research professor has created two international Master courses at Université Paris-Saclay: EIT Digital Human-computer interaction and design and the Research Interaction specialism for the University's Computer Science Master course. "I'm also proud to have finished writing a textbook for the digital and computer science specialism for secondary schools, where I've acted as both editor and co-author of both volumes of the book. I'm pleased with this achievement because I come from a family of teachers and going back secondary schools is a kind of recognition of that," admits Michel Beaudouin-Lafon, who is keen to pass on his knowledge. "It's important for scientists to pass on their knowledge to the general public. In our society, everything is constantly being questioned, even what seems to be taken for granted. I think there's a lack of communication about what research is, how it's done, what we learn and what we know. Research is about debate, about being able to disagree while still being able to talk to each other," he says in conclusion.