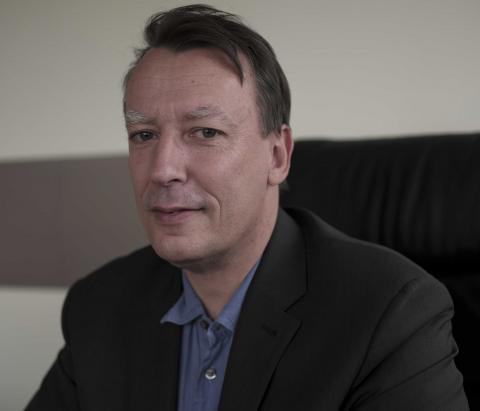 Marc Humbert: Curing pulmonary hypertension
Marc Humbert is Professor of Pneumology at Université Paris-Saclay, Head of the Pulmonology and Respiratory Intensive Care Department at Bicêtre Hospital, where he is responsible for the pulmonary arterial hypertension reference centre. He is a world-renowned specialist in pulmonary circulation diseases and in particular rare forms of pulmonary hypertension. In his laboratory, he makes a decisive contribution to the development of therapeutic innovations for the benefit of patients' life expectancy.
"Rare forms of pulmonary hypertension are insidious diseases that progress at low noise. They affect a few thousand people in France, but are frequently diagnosed at an advanced stage. This is due to their rarity and unclear symptoms, such as an initially mild shortness of breath that becomes more severe and evolves into discomfort during exercise, and ends with signs of heart failure and death," observes Marc Humbert.
Its pulmonology department at Bicêtre Hospital has been certified as a reference centre for rare pulmonary diseases by the European Union since 2017. "We maintain the world's largest registry of pulmonary hypertension patients, with more than 12,000 cases. This form of hypertension affects only the circulation of blood in the lung. Pressure rises because of changes in the endothelial cells lining the pulmonary artery or after-effects of clots that block the artery after an embolism. To establish the diagnosis, pulmonary arterial pressure is estimated approximately by Doppler ultrasound of the heart. It is then confirmed by a right cardiac catheterization. »
At the forefront of therapeutic innovation
The purpose of Marc Humbert's research is therapeutic innovation, "to understand the mechanisms of pulmonary hypertension and its consequences, to discover drugs and develop new therapeutic approaches for surgery or interventional radiology". Shared between the Bicêtre and Marie Lannelongue hospitals, its Physiopathology and Therapeutic Innovation laboratory employs some fifty researchers, doctoral students and post-doctoral fellows. "We conduct translational research to study all possible anomalies (genetic, functional...) from which biologists, chemists, pharmacists, physicians and surgeons will develop new treatments." Multidisciplinary research programs, such as Labex LERMIT and DHU Thorax Innovation (TORINO) are "essential" for him because they promote innovation.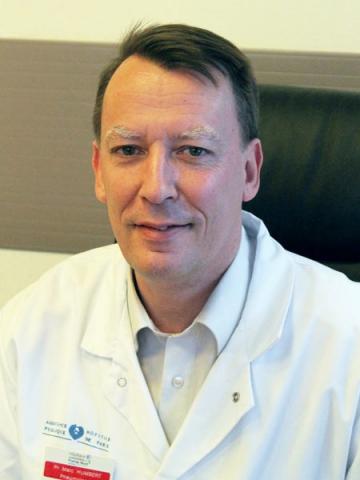 A major discovery
The great discovery of Marc Humbert's team is the analysis of the clinical consequences of pulmonary endothelial cell dysfunction and the development of combined therapeutic approaches. At first sight very aggressive, this combination of several treatments raised many fears, particularly about the emergence of side effects. "But that didn't happen. On the contrary, we have transformed the prognosis of the disease, with average survival rates of more than 7 years today, compared to less than 3 years 20 years ago," says the researcher.
Passing on to younger generations of researchers
A pure product of Université Paris-Sud, Marc Humbert wrote his thesis during his internship in pneumology at Béclère Hospital in Clamart, then went on to complete a two-year post-doctoral fellowship in London at Imperial College. "Very receptive" to the quality of care provided by his "mentors" during his internship, he became involved very early in the fight against pulmonary hypertension. "I am proud I have worked with Professors Duroux and Simonneau. In medicine, companionship is very important. »
It is now time to train the younger generation. "I tell researchers to work with perseverance, with the ultimate goal of understanding and curing the patients they encounter through the positioning of the laboratory at the heart of a hospital. In the meantime, I advise doctors to be ambitious while remaining respectful of patients. My years in medical research have shown me that anything is possible, provided that you ask the right questions and commit yourself with determination to national and international collaborations. We have made extraordinary discoveries, the possibilities for achieving others are immense," concludes Marc Humbert.
Marc Humbert is one of the Highly Cited Researchers (Clarivate Analytics) of Université Paris-Saclay, i.e. the researchers whose publications are the most cited in the world.
He has to his credit a large number of scientific awards including :
The Cournand Lecturer Award (2006) and the LifeTime Completion (2018), for his entire career (European Respiratory Society)
The Éliane and Gérard Pauthier Prize for Research on Rare Diseases (Rare diseases Foundation under the aegis of France Fondation)
The Descartes-Huygens Prize (2009) of the Dutch Academy of Arts and Sciences.