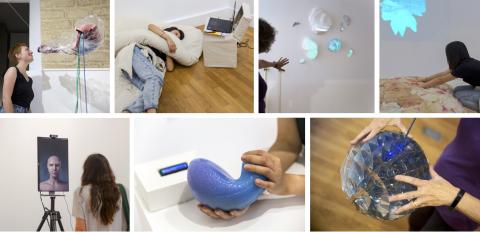 CreaARTathon 2022 : applications are open
The CreARTathon returns! This 2nd edition will take place from July 7 to 17, on the campus of the University Paris-Saclay. This event combines a hackathon and a summer school, and is open to master and doctoral students in artificial intelligence, human-computer interaction, art and design.
You can apply until May 1st 2022 at https://creartathon.com/ and the selected candidates will be notified by May 15.
The CreARTathon is co-organized by the Inria center of Saclay, the University of Paris-Saclay and the association Societies. It combines art and science in a Creative Hackathon where multi-disciplinary teams of five students collaborate on the design of an intelligent interactive object.
The event will start with two days of Master Classes on artificial intelligence and human-machine interaction, and a Panel discussion about Art and Design approaches. Divided into multidisciplinary groups, the students will be accompanied by 4 professional artists throughout the hackathon. The three best teams will be awarded by a multidisciplinary jury.
One of highlights of the CreARTathon22 will be the final art exhibition of the hackathon artifacts in Paris.
Learn more about the CreARTathon on our website at https://creartathon.com/ or contact us.