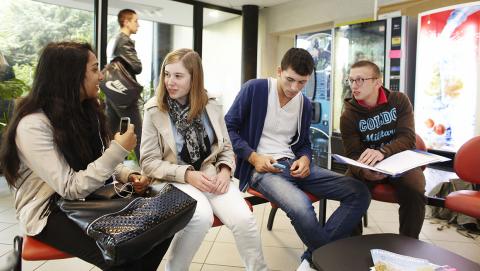 About Université Paris-Saclay
In 2020, Université Paris-Saclay has continued to pioneer its transformation:
a more comprehensive range of courses and incentivising study paths for all students
new key focus areas for research that combine disciplinary excellence and interdisciplinary challenges
individual and collective results that broaden knowledge for the benefit of society
mixed academic or administrative teams that unite different cultures and points of view, establishing Université Paris-Saclay as a major laboratory for the generation of new ideas.
You can learn about what our University has to offer on this main website but also by visiting the websites of the University's constituent faculties and institutes, which include five faculties in Sciences, Medicine, Pharmacy, Law-Economics-Management, Sports Sciences, three technical institutes specialised in scientific and technical subjects in Cachan, Orsay and Sceaux and a university engineering school.
The University also brings together four component institutions: CentraleSupélec, AgroParisTech, Ecole Normale Supérieure Paris-Saclay and the Institut d'Optique Graduate School, with two associate institutions: Université de Versailles Saint-Quentin-en-Yvelines (UVSQ) and Université Evry Val d'Essonne (UEVE). Together, they help us to broaden the University's range of courses and develop our research and innovation projects.
Université Paris-Saclay embodies the very best of what French higher education and research has to offer, recognised internationally for its level of excellence.
The University in a nutshell
Université Paris-Saclay offers a comprehensive and varied range of Undergraduate, Master's and PhD degrees, renowned internationally thanks to the University's reputation for research excellence and the commitment of its academic staff. The University's constituent faculties, institutes and component institutions all contribute to the curricula with cutting-edge specialised courses in Science and Engineering, Life Sciences and Health, and Social Sciences and Humanities.
The University shares 275 laboratories with the French Alternative Energies and Atomic Energy Commission (CEA), the French National Centre for Scientific Research (CNRS), the Institut des Hautes Etudes Scientifiques (IHES), the French National Research Institute for Agriculture, Food and Environment (INRAE), the National Institute for Research in Digital Science and Technology (INRIA), the French National Institute of Health and Medical Research (INSERM) and the French Aerospace Lab (ONERA). Université Paris-Saclay currently represents 13% of France's research potential.
Located in the south of Paris on vast sites that stretch across Paris, Orsay, Évry and Versailles, Université Paris-Saclay benefits from a strategic geographical and socio-economic position that is strengthened by its international visibility.
Université Paris-Saclay is nested in a protected natural area close to Paris, at the very heart of a dynamic economic hub.
With 48,000 students, 9,000 researchers and lecturers, and 11,000 technical and administrative staff members, Université Paris-Saclay is a driving force for the development of its local area and one of France's leading institutions.
Join a French university that is inclusive, renowned for its excellence and open to the world.