MT180: a new format for the competition in 2021
On Thursday 11 March 2021, the final of Université Paris-Saclay's "My Thesis in 180 seconds" (Ma Thèse en 180 secondes – MT180*) took place in ENS Paris-Saclay's Grand Amphitheatre. This year, in light of the current health crisis, the competition was held behind closed doors with the necessary protective measures. Over 800 people tuned in to watch the live event on the University's YouTube and Facebook channels. The 15 finalists had 180 seconds to pitch their theses in French in a simple, dynamic and entertaining manner.
The evening was hosted by Daniel Fiévet, journalist at France Inter. The jury panel included: Mac Lesggy, producer and presenter of the 'E=M6' French science TV programme, Carine Le Malet, Head of Programming at the Scène de Recherche, Hervé Dole, astrophysicist and Vice-President for Art, Culture, Science & Society at Université Paris-Saclay, Gérald Kénanian, DeepTech policy officer for the French Ministry for the Economy and Finance, and Mathis Duguet, MT180 winner of the Jury and Audience Choice Awards in 2020.
All of our doctoral students did a superb job pitching their research to a non-specialist audience. The jury awarded First Prize to Alison Dussiot, a doctoral student in nutritional science at the Nutritional Physiology and Eating Behaviour Laboratory (PNCA - Univ. Paris-Saclay | AgroParisTech | INRAE) at the ABIES Doctoral School (Agriculture, Food, Biology, Environment, Health), for her thesis "What are the future scenarios and nutritional methods for a pro-flexitarian dietary transition in France? Analysis of the nutritional and dietary factors and obstacles to the reduction of meat consumption."
The jury's Second Prize was awarded to Hélène Bret, doctoral student in biochemistry and structural biology at the Institute for Integrative Biology of the Cell (I2BC - Univ. Paris-Saclay | CEA | CNRS) at the ITFA Doctoral School (Therapeutic Innovation: from fundamental to applied research), for her thesis "Prediction of macromolecular assemblies with deep learning and convolutional neural networks."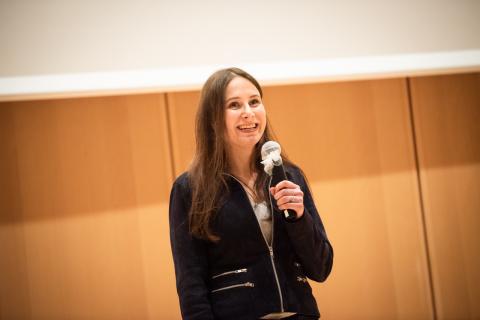 First Jury Prize: Alison Dussiot (PNCA - Univ. Paris-Saclay | AgroParisTech | INRAE)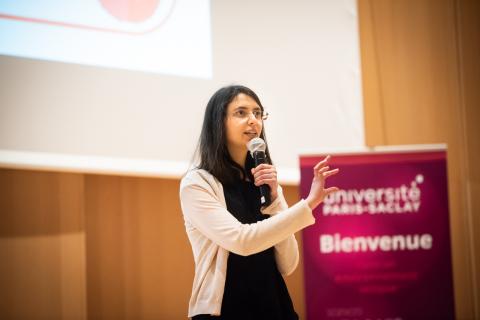 Second Jury Prize: Hélène Bret (I2BC - Univ. Paris-Saclay | CEA | CNRS)
The honorary Audience Choice Award, which was 100% online this year, was awarded to Clara Marino, doctoral student in ecology at the Ecology, Systematics and Evolution Laboratory (ESE - Univ. Paris-Saclay | CNRS | AgroParisTech) at the SEVE Doctoral School (Plant Sciences), for her thesis "Assessment of various impact scenarios of biological invasions in the context of climate change".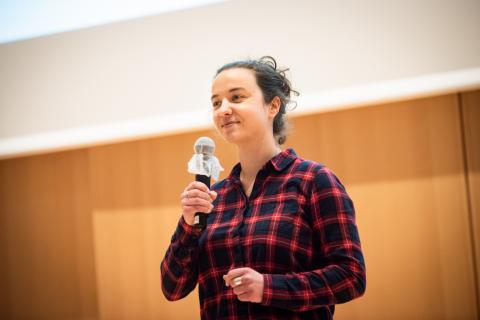 Online Audience Choice Award: Clara Marino (ESE - Univ. Paris-Saclay | CNRS | AgroParisTech)
Our two winners, Alison Dussiot and Hélène Bret, will compete in the French national semi-final in April. They will be judged on their performances recorded during the finals organised by each institution. 58 candidates will take part in the French national final round.
Bravo to all of our doctoral students for their commitment and positive attitude! We would like to thank them for sharing their research with us and for such a fantastic evening!
Watch the event (in French) on the University's YouTube channel
* "Ma thèse en 180 secondes" (MT180) is a Francophone competition, inspired by the Australian equivalent, "Three Minute Thesis". MT180 is supported in France by the Conference of University Presidents (CPU) and the French Centre for Scientific Research (CNRS), in association with participating universities.