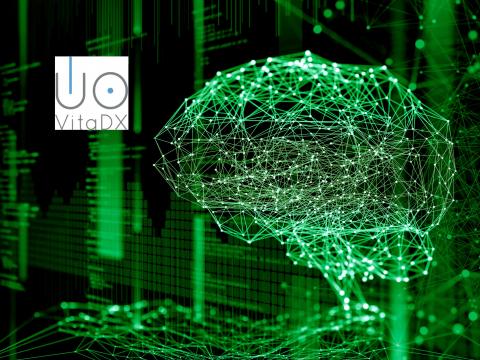 Fluorescence and machine learning: how VitaDX is transforming the early detection of bladder cancer
The start-up VitaDX is developing a solution for early detection of bladder cancer. It is based on fluorescence, a technology developed at the Institut des sciences moléculaires d'Orsay (Orsay Molecular Sciences Institute) (ISMO – Université Paris-Saclay, CNRS), and on machine learning. With their ambitious idea, devised by complementary researchers and engineers, the start-up is now a very promising success story. 
Part of the VisioCyt® technology, the product developed by VitaDX comes from research carried out within the Institut des Sciences Moléculaires d'Orsay (Orsay Molecular Sciences Institute) (ISMO – Université Paris-Saclay, CNRS) between 2008 and 2012. During this period, Marie-Pierre Fontaine-Aupart, a researcher working in this organisation, developed a medical imaging technique which consists of observing cells, which have been extracted from a urine sample and deposited on a slide, under a fluorescence microscope. Using a light emitted at a certain wavelength, the aim is to excite the components present in these cells, usually detected by staining in traditional urinary cytology, so that they emit fluorescence in return.
Medical analysis using fluorescence has transformed urinary cytology examination
During work on a joint project with Professor Pascal Eschwege, an urologist and surgeon at Kremlin Bicêtre hospital, she noticed that the detection methods of "low grade" (early stage) bladder cancers were insufficient and that her technology could fix that. Indeed, when an urologist prescribes a urinary cytology to a patient – an examination that diagnoses the presence of tumour cells – the results are not always accurate enough. If there is any doubt, the doctor then carries out an endoscopy. However, this is an invasive test and can sometimes lead to urinary infections or even, in rare cases, result in perforations of the bladder. It is also often unnecessary, because in about 70% of the cases, the examination reveals that the patient had no pathology. However, the technique developed by Marie-Pierre Fontaine-Aupart can easily differentiate between tumorous or healthy urothelial cells (from the walls of the bladder) by locating fluorescence in these cells. By offering a novel alternative to medical examination, this innovation is transforming urinary cytology.
The creation of VitaDX 
In 2012, Marie-Pierre Fontaine-Aupart was involved in another project to transfer technology from a company located in Villejuif Bio Park (a company and activity incubator in the health and biotechnology sector). There, fortuitously, she met Allan Rodriguez, a partner in Tech2Market, a consulting firm specialising supporting start-ups, where he was head of the health business. With Pascal Eschwege, she recruited Thibaut Troude, a graduate of the Institut d'Optique Graduate School (a Université Paris-Saclay partner institution), and Université Paris-Sud (which merged with Université Paris-Saclay in January 2020), who was just starting his work with ISMO.
In 2015, once the imaging method had been patented, the team decided to respond to a call for maturation projects from SATT Paris-Saclay and ONERA (National Office for Aerospace Studies and Research) to carry out the necessary development for the technological transfer of the invention. Then, the team realised they needed to optimise their solution: "We were aware that transition through automation, thanks to machine learning, was essential to transform this scientific discovery into an innovative technological product, because a human eye cannot review thousands of cells. Some have very small atypia, which makes diagnosis difficult," explains Thibaut Troude.
VitaDX, the start-up that combines fluorescence technologies with machine learning was born. Allan Rodriguez became the Executive Director, Marie-Pierre Fontaine-Aupart the Scientific Director, Thibaut Troude the Technical Director, and Pascal Eschwege the Medical Director. Thanks to an initial investment – the start-up attracted four investments in 5 years, from private individual investors and investment funds, raising a total of 8 million euros – they recruited a team specialising in image processing and machine learning, as well as in marketing, with biosciences engineer Charlotte Guinard as project manager. She is responsible for marketing VitaDX's products – which consists of working on the characteristics, positioning and product specifications – in particular VisioCyt®, the software dedicated to the diagnosis of bladder cancer, which obtained CE marking in February 2020. This software analyses the cells from urine samples under white light and fluorescence using image processing algorithms based on artificial intelligence. With machine learning technology, the analysis is improved over time as the software is used.
A start-up in full growth and overflowing with ideas
Today, the start-up has twenty employees: developers, data scientists, biologists, and marketing and quality specialists and is based in the 15th arrondissement of Paris and in Rennes.  The financing obtained by the company has made it possible to carry out a first clinical trial of data collection from which the algorithms learned. "We are currently collaborating with several partner hospitals, who provide us with urine samples so we can implement our solution in a controlled environment, in our technical platform, in order to carry out analysis under real conditions," comments Charlotte Guinard. The start-up will also collaborate with large centralised testing laboratories. "We have signed a pre-marketing agreement with Cerba, one of Europe's largest testing laboratories, present in several countries, and we are also in discussions with other European organisations," says Charlotte Guinard.
VitaDX is also interested in the US market and has already made connections with several CLIA (Clinical Laboratory Improvement Amendments) certified laboratories in order to deploy the solution in the US. The start-up is working on a regulatory strategy to obtain approval from the Food and Drug Administration (FDA).  And finally, as the VitaDX technology can be adapted to detect diseases in different organs, the team is already thinking of extending the solution for the diagnosis of other early-stage cancers. "We will of course, with the agreement of our investors, have to study the market and its upstream needs before launching this type of strategy. But we are confident in the many opportunities that VisioCyt®  offers," concludes Thibaut Troude.