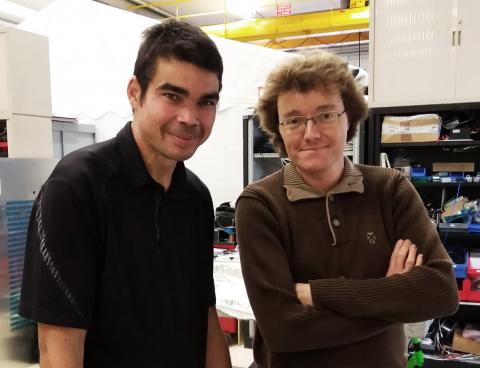 David Attié and Sébastien Procureur: From Saclay's water tower to the Great Pyramid of Giza
On October 16, 2018, researchers David Attié and Sébastien Procureur were jointly awarded the Prix Ivan Peychès by French Academy of Sciences for their work in muon tomography, especially the development of muon telescopes that can image material objects and reveal voids.
Since 2012, David Attié and Sébastien Procureur have worked as a team at the Institute of Research into the Fundamental Laws of the Universe (IRFU), part of the French Alternative Energies and Atomic Energy Commission (CEA). That's when they first thought of using muons – fundamental particles originating from cosmic rays – to characterize detectors and develop a "cosmic bench"1.
"I always wanted to be a scientist," observes Sébastien Procureur. "It all started with my preschool teacher, who introduced us to a new planet in the solar system every week."  After graduating from École Centrale Paris in engineering, including a year at Cambridge, he passed his PhD in nuclear physics at the CEA in 2006, then joined its Nuclear Physics Division (IRFU).
For David Attié, the urge to do research came later, despite his boyhood aspiration to "be an inventor". While preparing for competitive exams to gain admission to graduate school, he lived across from the Paris Observatory... perhaps a sign that he was destined for a career in science! "I studied physics and then, in 2005, defended my PhD in astrophysics at Université Pierre et Marie Curie - Paris VI." After teaching a year apiece at a university and at high school, he undertook post-doctoral research at the Particle Physics Division (IRFU). In 2008, he was recruited to join the Electronics, Detectors and Computing Division, the "technical arm" of IRFU. 
When David Attié and Sébastien Procureur joined forces at IRFU, each brought complementary expertise to the table. In 2012, Sébastien Procureur developed a patented multiplexing scheme for a cosmic bench, which the duo proceeded to develop together. This marked the start of their collaboration on muography. By year-end 2013, they were overseeing a project on muon tomography.
Imaging the water tower at the CEA campus
The research duo thought their detectors could be used for muography. To confirm this intuition, they built their first muon telescope during the summer of 2015. Eager to try it out, they thought of a familiar landmark at the CEA Saclay campus: the famous water tower designed in 1949 by Auguste Perret, now a listed edifice. The director of IRFU was enthusiastic and green-lighted the operation. The first HD muographic image, in which the structure is easily recognizable, was published in a scientific journal.
"Most importantly, this experience served to validate how to use this type of functional telescope, which is twenty times more precise than other telescopes, before taking it further," points out Sébastien Procureur. "The advantage of muography is that it relies on natural radiation and can be used anywhere." The members of the CEA community flocked to see the telescope, which was then brought back to the lab after 3.5 months of data taking. 
Headed for Egypt
At this point, Fate took a hand. Sébastien Procureur read in the press about ScanPyramids, a project to image the biggest Egyptian pyramids to find out more about their construction. Several international research teams had already mobilized for this project, supervised by Egypt's Ministry of Antiquities. He contacted one of the project's coordinators, Mehdi Tayoubi, president of the "Heritage, Preservation, Innovation" Institute. In late 2015, a six-man team undertook a major challenge, i.e. to manufacture three muon telescopes in three months. "With the CEA providing support, we went into overdrive, pooling our skills and pulling together to reach our goal," recalls David Attié. "We were also assisted by Elvia PCB, one of the CEA's industrial partners, which manufactured eight detectors in only two months," adds Sébastien Procureur. "Once the logistical problems were solved, we successfully tested operating procedures on a first telescope. Among other things, we verified its connectivity, because initial data was to be collected using a 3G flash drive enabling remote control." Once on location, the three muon telescopes were stationed outside the Great Pyramid, with two posted on the east side and one on the north side.
Probing the mysteries of the Great Pyramid of Giza 
The initial muography findings confirmed the presence of a chamber that was already known in the late 19th century. More importantly, they revealed the existence of another space located 30 meters higher. One hypothesis advanced by a French architect is that these cavities lay at the edges of an internal ramp potentially used by the Egyptians to move blocks of stone.
Eventually, the data collected in situ by Japanese researchers indicated that a void existed close to the Grand Gallery so, in early 2017, two CEA telescopes were deployed on the north side to confirm the discovery and perform a more precise, unambiguous localization. In November 2017, all the researchers involved in ScanPyramids mission, about fifty in all, signed an article published in Nature to summarize their work. This discovery received heavy media coverage worldwide and was featured in many documentaries and television interviews.
Today, David Attié and Sébastien Procureur are often asked to help develop its application possibilities, of which there are many. Not letting success go to their heads, they simply comment that "fundamental research is what we do. Now it's time for the industrials to take over!"
The ScanPyramids adventure is still underway, using muons to shed light on Egypt's largest pyramid, the final resting place of the Pharaoh Cheops.
---
1 A "cosmic bench" is made up of a hodoscope (an assembly of position detectors used to observe the trajectories of subatomic particles, especially cosmic ray particles),  a trigger system (generally plastic scintillators whose time signals are transmitted to a coincidence module to trigger data acquisition when a cosmic passes through the bench) and the electronics required for readout.
---