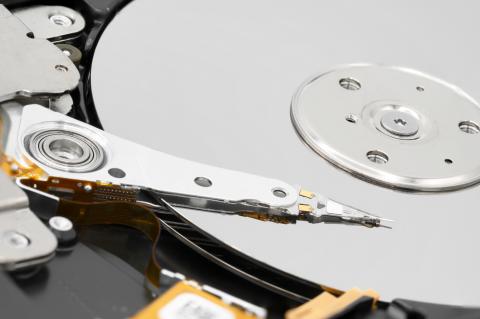 Albert Fert: The art of physics
Albert Fert is world-famous for winning the Nobel Prize in Physics in 2007 together with the German researcher, Peter Grünberg, for the discovery of giant magnetoresistance (GMR). He is a member of the Académie des sciences (The French Academy of Sciences), Professor Emeritus at Université Paris-Saclay and a researcher at the Unité mixte de physique CNRS/Thales (UMPhy - Université Paris-Saclay, CNRS, Thales) which he co-founded. At 82 years of age, the inventor of spintronics feels just as inspired by the exploration of physics as ever. 
At the age of just 19, the young Albert Fert left his native Occitanie region for Paris. As a student at the École Normale Supérieure (ENS), he was more attracted, he freely admits, by the capital's jazz clubs than by physics. However, his passion for science took off in the mid-60s during his doctorate at the Laboratoire de physique des solides (Solid State Physics Laboratory) in Orsay (LPS - Université Paris-Saclay, CNRS), under the direction of Ian Campbell. "Previously, I thought that science was a set of laws firmly established by eminent researchers and that a young PhD student such as myself was unlikely to bring anything new to it all. But then, I realised that small ideas from a young researcher could also open up new avenues."' 
From a thesis to the discovery of GMR
Albert Fert's thesis, which he submitted in 1970, already laid the first foundations for what would later be called spintronics - demonstrating the influence of the spin of electrons on their electrical conductivity. He remembers the years which followed as being a very productive period. "I was able to freely embark on avenues of research which were not fashionable at the time, and I still use some of the results today." Appointed in 1976 as a professor in the Faculty of Science in Orsay, where he had been an assistant professor since 1966, Albert Fert managed a research group at LPS. The emergence of nanotechnology in the 1980s suddenly opened up new areas for his research. "My idea was to harness the results of my thesis in nanostructures using the new tools of nanotechnology. One of my previous PhD students, Alain Friedrich, was head of a Thomson CSF laboratory in Corbeville. There, he developed molecular-beam epitaxy - a new technology for depositing ultra-thin layers atom by atom," remembers Albert Fert. A collaboration quickly developed between the company and the research team. In 1988, it resulted in the discovery of giant magnetoresistance in magnetic multilayers. "We showed that a magnetic field significantly changes the electrical resistance of a stack of ultra-thin layers of iron and chromium, which we called Giant MagnetoResistance (GMR). A similar effect was discovered independently and almost simultaneously by Peter Grünberg in Germany."
The birth of spintronics
The article about the discovery was published in 1988 (it has been cited more than 6,000 times since then) and is considered as the birth of spintronics - a new type of electronics based on the use not only of the charge of the electrons but also their magnetism (spin).  GMR brought about many applications which were quite quickly developed by companies. In particular, it revolutionised the reading technology of hard drives by considerably increasing their information storage capacity and also by paving the way for their miniaturisation for use in mobile electronics. "It took a further three to four years for sensors for cars to arrive on the market, and seven years for hard discs to appear which boosted the storage of digital information," remembers the researcher. The growth of spintronics led the CNRS and the company, Thales (a spin-off of Tompson CSF) in 1995 to create the CNRS/Thales Joint Physics Unit with Paris-Sud University. 
Exploring physics
The Albert Fert team working in this unusual laboratory is made up of 23 full-time researchers who carry out cutting-edge research in nanophysics. "Imagination is paramount for physicists because they explore all possible ways of manipulating and using the particles and quasiparticles in the nanoworld. Contact with the industrial world then helps move things faster towards application," he adds.
One of the present challenges is to use advances in spintronics to design components which consume much less energy than those in conventional electronics. "We know that information and communication technology consume almost 10% of the world's electricity production and contribute significantly to global warming." Research carried out in the 2000s has already given rise to new spintronic components called STT-RAM (Spin-Transfer Torque Random Access Memory). "Their gradual introduction into production today is very promising in terms of energy savings. And we can expect even more ideas from some of our current research," explains the 2007 Nobel Prize-winner in Physics. 
The Albert Fert team is also carrying out pioneering research in the field of skyrmions. These are nanoparticles which resemble "small, swirling balls that can be created and moved with electric currents  in skyrmion magnetic configurations - a bit like as if you were playing boules". The properties of these quasiparticles come partly from the topology of the spin configuration, and partly from relativistic interactions (known as spin-orbit coupling) at the interface of two materials. In fact, this research had already been in the researcher's files since an article written in 1980 with American physicist, Peter Levy. "Fierce competition during the development of spintronics had kept me away from the subject and I didn't return to it until 2013."
A creative profession
Albert Fert, who has been a member of the Académie des sciences (French Academy of Sciences) since 2004, has won numerous awards, but winning the Nobel Prize in Physics is obviously one of the highlights of his life. Above all, however, the researcher enjoys the pleasure of research and the enjoyment of team work, which is "much like in rugby", - a sport which he has played a lot. A lover of jazz and film, he also likes to compare the profession of a researcher to that of an artist. In fact, he was a bit of a filmmaker himself, directing a short film and exhibiting wonderful photos in his youth. This love of the arts has even had an influence on the careers of his children, Ariane and Bruno. Finally, his attachment to this profession also comes from the very strong international network of friendships he has formed, "which go far beyond professional relationships". 
Paris-Saclay and the great discoveries
Albert Fert has taught throughout his career. Today, he is very happy about the creation of Université Paris-Saclay and welcomes the PhD students he recruits from there. "Its position in the latest Shanghai ranking (14th in the world and 1st for physics in Europe) strengthens its international standing and makes a meaningful scientific approach possible, in particular in encouraging collaborations between laboratories and departments which will lead to major discoveries," concludes Albert Fert.