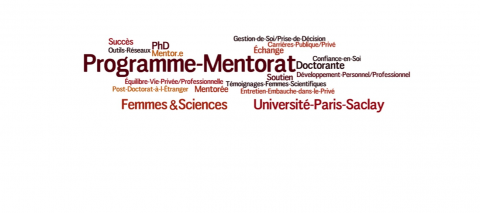 Mentoring Programme - Women & Science
What is mentoring?
Mentoring is a voluntary and confidential relationship in which an experienced person (a mentor) guides and supports the development of a less experienced person (a mentee). Mentoring has been associated with greater career progression and professional development among mentees. Mentoring has been associated with greater career progression and professional development among mentees, making it essential to be mentored to reach one's full potential at all career levels.
Why mentor young women scientists?
Women face more obstacles in their careers in science. Mentoring can help women overcome these barriers. Mentoring is critical to women's success in science?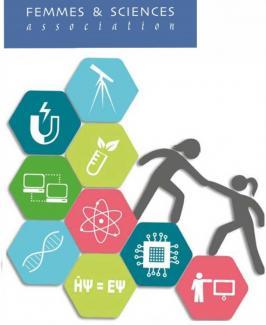 The programme offers mentees
Monthly one-on-one discussions with an e-mentor: the mentor/mentee pairs meet individually to discuss career goals, difficulties encountered or other topics that the mentee wishes to discuss. This personalised support enables mentees to find a contact person who listens to them and thus to be followed, guided and supported in their career

Mentoring circles that allow a discussion around a specific theme (e.g.: personal/professional life management balance, academic/private career, post-doctorate in France/abroad, self-confidence, etc.), in an informal way, by asking questions and proposing answers following a joint reflection

Collective professional development workshops (e.g. job interviews in the private sector, tools to develop one's professional network, self-management and decision-making, etc.)

Testimonials from women scientists with a non-linear career path
To register, please fill in one of the following questionnaires before 12/15/2022:
50 places maximum for mentees
Objectives:
The objective of this program is to support women doctoral students ("mentees") in an important period of career building by giving them access to a "mentor" (experienced professionals, women or men, working in the public or private sector), to attend professional development workshops, and to be part of a community of young women scientists sharing similar concerns.
This programme is entirely free of charge: no financial participation is required from mentees, and mentors do not receive any compensation. It is based on a reciprocal, voluntary and voluntary commitment.
By enrolling in the programme, mentees undertake to follow all the activities of the programme for a minimum of 25 hours (number of hours required for validation of the module by the Doctoral College).
Agenda
Events
December 15, 2022: Deadline to register in the program for mentors and mentees. For mentees, the number of places is limited to 50 doctoral students. In the week following the registration deadline you will receive an email informing you if your application is accepted.
January 5, 2023 - 4:30-6:00 p.m.: Kick-off event with presentation of the programme
Week of January 9-13, 2023: Speed meetings between mentees and mentors
Second half of January, 2023: Creation of pairs of mentees and mentors
Early February 2023: Mentor training event
During February 2023: Start of individual meetings between mentee and mentor.
More precise dates will be communicated to you as soon as possible.
Exchanges
Monthly Individuals with a Mentor.e (March-December)
In a group with a community of young women scientists
Group meetings (programming throughout the year)
Testimony of women scientists with non-linear backgrounds (company manager, editorial, scientific promotion, etc.).
Thematic discussion circle (2H)
Self-confidence 
Work-life balance
Public/Private Career
Group training workshops (2H) (led by professionals)
Network Tools 
Job interviews in the private sector
Post-doctoral studies abroad
Self-management and decision-making
Details and associated dates will be communicated to you as soon as possible. 
Femmes et Sciences: The Université Paris-Saclay mentoring
The UPS Doctoral Student Mentoring Programme was initiated in 2018 by Sylvaine TURCK-CHIEZE (for F&S) in the framework of the UPS CAC, Sylvie POMMIER (doctoral college) and Marina KVASKOFF (Inserm, Villejuif) who was responsible for a pilot phase involving 9 pairs of mentees/mentors. 
Since 2019, the programme has been fully active and has 40-45 mentees each year.
The programme:
is aimed at doctoral students starting their scientific career. 

takes place over one year (Jan-Dec).

is validated by the doctoral college (equivalent to 25 hours of training)
Doctoral students from around 20 UPS doctoral schools benefit from this programme. Mentors (women/men) come from a variety of backgrounds (public/private).
The team
Co-heads of the programme
Géraldine LIOT, Maitre de conférence, geraldine.liot@universite-paris-saclay.fr – CEA, MIRCen, Fontenay aux Roses, Membre du CA Femmes & Sciences,
Gwenaëlle ANDRE, Directrice de Recherche, gwenaelle.andre@inrae.fr – INRAE, MalAGE, Université Paris-Saclay, Domaine de Vilvert, Membre de l'association Femmes & Sciences
Other members of the steering committee
Jessica ANDREANI, ingénieure chercheure CEA, I2BC, Paris-Saclay, Membre de l'association Femmes & Sciences
Marie DESTANDAU, doctorante, INRIA, membre de l'association Femmes & Sciences
Camille DOYEN, docteure en biologie structurale travaillant dans le secteur privé
Lucia LEVATO, Coach certifiée et Dr. ès sciences - LUSVAL - Développement professionnel des individus, des équipes et des organisations,  Membre de l'association Femmes & Sciences
 Julie MENETREY, Directrice de Recherche, MiKiCa, Gif-sur-Yvette, Membre de l'association Femmes & Sciences
Evelyne NAKACHE, Professeure émérite des universités
Sylvaine TURCK-CHIEZE, Astrophysicienne, présidente de l'association F&S de 2014 à 2018 et membre du Conseil Académique de l'Université Paris-Saclay jusqu'en 2019,

Membre de l'association Femmes & Sciences
Contacts
For further information, please contact