GRADUATION CEREMONY FOR THE MASTER'S DEGREE IN CHEMISTRY
The Chemistry Graduate School and the Geosciences, Climate, Environmental and Planetary Sciences Graduate School jointly organised their graduation ceremony for Master's Degrees on Friday 29 April at CentraleSupélec.
The graduation of former students in Chemistry and Earth, Planetary and Environmental Sciences for the cohorts of 2019-2020 and 2020-2021 took place in a relaxed and friendly atmosphere.
Sylvie Retailleau, President of Université Paris-Saclay, who has since been appointed Minister for Higher Education and Research, kicked off this wonderful evening by congratulating the Master's graduates and the teaching teams who carried out extraordinary work despite the Covid-19 pandemic.
Sylvie also paid an emotional tribute to Professor Matthieu Roy-Barman, the Director of the Geosciences, Climate, Environmental and Planetary Sciences Graduate School who had died a few months previously.
"Your choices will count! "
Then, Valérie Masson-Delmotte, a paleoclimatologist and co-chair of the IPCC working group on climate physics, made the graduates aware of the many facets of a changing climate in her role as the ceremony's patron. She mentioned, among other key issues, access to water, biodiversity, global warming and energy. She highlighted the urgency and the possible ways ahead. The challenge is to harness the scientific knowledge which exists in order to act proactively. Her message was very clear.
It is about giving us the keys to make personal and professional decisions. Through the implementation of drivers and technical solutions, she communicated to us the skills and expertise needed to change things for the benefit of our own well-being and the preservation of the Earth.
"In this context, you can be agents of transformation through the jobs you choose to do. "
"Will you yourselves choose low-carbon lifestyles to strengthen resilience and help build low-carbon economies? Will you act to protect the most vulnerable? "
Damien Prim (Director of the GS Chemistry) together with Rachel Méallet-Renault (Deputy Director of Education) then continued the evening by calling our graduates up one by one.
Benjamin Brigaud, Deputy Director of Education at the GS Geosciences, Climate, Environmental and Planetary Sciences then took the helm to continue the procession of graduates on stage. The celebration ended with a drink and the guests toasting each other in celebration.
Congratulations to all our graduates!
The ceremony's alumni in numbers:
GS Geosciences in 2019/2020: 90 graduates, in 2020/2021: 131 graduates
GS Chemistry in 2019/2020: 91 graduates, in 2020/2021: 101 graduates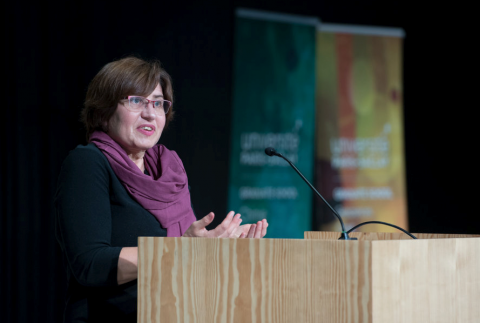 Valérie Masson-Delmotte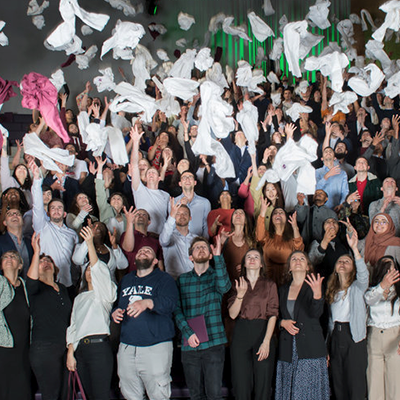 29 April 2022