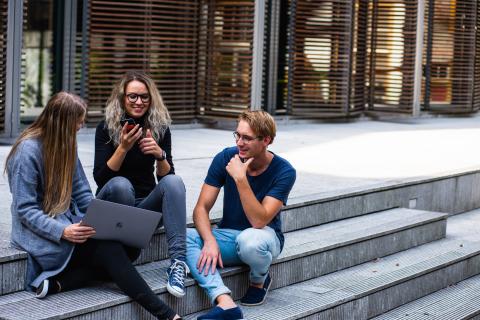 Undergraduate application and registration
Université Paris-Saclay offers a varied range of courses in the fields of science and engineering, life sciences and health, and humanities and social sciences.
The quality of the University's courses are recognised internationally due to the reputation of its research and the commitment of its teaching staff, making Université Paris-Saclay one of the top institutions in France.
Whatever the area you are considering, Université Paris-Saclay can offer you a wide choice of options due to its structure, including: Licences (undergraduate degrees), Licences Double-Diplôme (undergraduate joint degrees), B.U.T (undergraduate degree in technology), DEUST (scientific and technical university diploma), Engineering Cycle, Licences Professionnelles (undergraduate vocational degrees), Masters, PhDs and medical and paramedical training.
ATTENDING UNIVERSITÉ PARIS-SACLAY
Joining Université Paris-Saclay can be achieved in two steps. The first involves applying and the second involves registration:
Application

   Choose your course
   Apply
   Accept the acceptance confirmation

Application

   Pay the Student and Campus Life Contribution (CVEC) to CROUS
   Proceed with your administrative registration and pay your registration fee
   Send your supporting documents
   Complete your academic registration
Application procedure
Université Paris-Saclay offers students high-quality courses which provide them with access to employment, as well as enhance their knowledge in various scientific and economic sectors in both academic laboratories and in the socio-economic world or specific professional sectors (teaching, the legal profession, health professions and the service sector, etc.).
Find out how to prepare your application to an undergraduate programme at Université Paris-Saclay based on your student profile:
Case 1: I would like to apply for the first year:
For future French baccalaureate holders: You use the Parcoursup process. For some help with how Parcoursup works, please contact the Guidance and Development of Research Projects Hub (OCPE): information.bachelier@universite-paris-saclay.fr
Applications to the 1st year of a Licence course or the 1st year of a BUT course for international students depends on the situation. To register for one of our courses or for more information on the procedures, please go to this page.
Case 2: I would like to apply for the second or third year:
Applications are made on the E-candidat platform. It is strongly recommended that you go to the Courses section to check the specific terms and conditions of your chosen course.
An educational statement (admission certificate or authorisation to enrol) is always issued on condition that all the administrative formalities are completed and the regulatory requirements are met. These will be checked by the Registrar's Office at the time of administrative registration, in particular the qualification required for entry to the course.
You must accept the acceptance confirmation on the designated platform.
Article D612-4 of the Education Code: 'Registration is subject to the presentation, by the person concerned, of a personal file, the composition of which is defined by the head of the establishment in accordance with the general provisions laid down by the Minister responsible for higher education, as well as the completion of the formalities provided for by the regulations on university fees.'
Registration procedure
Before you register for an undergraduate course at the University, you must pay the Student and Campus Life Contribution (CVEC) to CROUS. This contribution provides social, health, cultural and sports support for students.
The amount to be paid to CROUS for 2022-2023 is €95. Whether you are subject to CVEC or exempted from it depends on your profile, see further information here.
After you have paid the CVEC, you will receive a certificate via email with the certificate number you will need for administrative registration.
Those who are exempt: people enrolled on a BTS (national higher education technology diploma), DMA (arts trades diploma), accounting course, continuing education (including work-study programme under a professional contract), or students on international exchange in France (via Erasmus+ type programmes). If this includes you, you do not have to pay the Student and Campus Life Contribution and you can go on to step 2.
The administrative registration must be updated every year. It has to be completed to receive a student card or to sit examinations. It leads to the statutory collection of tuition fees.
There are two platforms for undergraduate registration, one for new entrants and one for re-entries.
| | |
| --- | --- |
| I am registering for the first time at Université Paris-Saclay | I have already registered at Université Paris-Saclay last year |
| IAPrimo | APOWEB |
Once your administrative registration is completed on the platform, you must submit your supporting documents. A link will be sent to you via email. Only complete applications can be considered. In case of difficulty, you can contact your educational institution.
After completing the administrative registration, you must complete your academic registration. This involves registering for the courses you will follow during the year and, if necessary, making the choices available to you in terms of the options offered. Academic registration is essential in order to be able to sit your exams.
You can move on to the academic registration process with the administrative office of your course of study or with the Registrar's Office (depending on the study tracks) for an assignment to a group of tutorials (TD) and to practical work (TP).
To find out about timetables, course starting dates, changes of timetable or location of courses, your main contact throughout the year is your Registrar's Office.
Most frequently asked questions about admission to the Undergraduate Programme
The CROUS offers two options when it comes to lunch:
University restaurants
Cafeterias
To find out more, head to the Versailles CROUS website.
Your student card allows you to top up your Izly