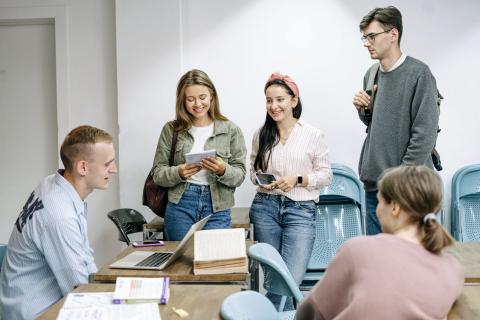 EUGLOH opportunities for students
The EUGLOH Alliance offers a variety of training and mobility opportunities in Europe: Erasmus+ study mobility, internships, online training programmes and courses, summer schools, workshops, series of scientific conferences, etc.
The EUGLOH training offering is open to all students, regardless of your level or area of study, and can be focused on different areas (medicine, pharmacy, nutrition, physics, sport science, environment, but also economics, law, engineering, humanities, etc.). It also enables you to develop professional skills (talking in public, intercultural communication, scientific English, entrepreneurship...). 
EUGLOH is also the perfect opportunity to develop a network, thanks to meetings and discussions with students and researchers from the 5 campuses. You can also be actively involved in its construction.
Also
You are a researcher, a teacher or a student from Paris-Saclay, a business, a public entity, an association , a European citizen: this project could be for you.
European University Alliance For