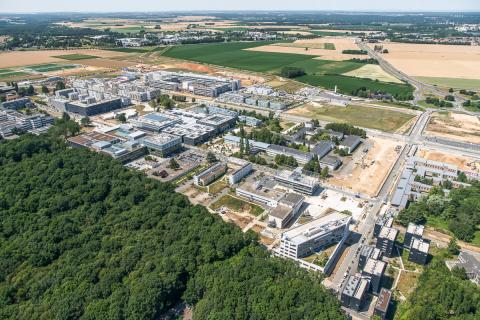 Initiative of Excellence label confirmed for Paris-Saclay University
PRESS RELEASE
Paris-Saclay, 5 November 2020
The international IdEx jury (Initiative d'Excellence), which has supported the founding members of Paris-Saclay University since 2012, has rewarded the university for its new institutional model, in place since January 2020. The label will act as a new springboard for Paris-Saclay, helping to boost recognition of French higher education and research internationally.
The label awarded today marks the beginning of a new chapter for the university ans its future.
"We are of course delighted by this new recognition. With this decision, the IdEx jury has affirmed the strength of the new model that we have built. Paris-Saclay University's brings together 4 Grandes Écoles (AgroParisTech, CentraleSupélec, ENS Paris-Saclay and the Institut d'Optique Graduate School), along with IHES, and 2 associate institutions, Université d'Evry-Val d'Essonne and Université Versailles Saint-Quentin-en-Yvelines. These will merge by 2025, generating a strengthened partnership with the 6 national research organisations that work with us: CEA, CNRS, INRAE, Inria, Inserm and ONERA. This label will contribute to securing our position on the international stage, alongside the other previously labelled IdEx institutions and our colleagues at Université PSL who were also awarded the label today," said Prof. Sylvie Retailleau, President of Paris-Saclay University.
"We are very grateful to the members of the IdEx jury who have supported us over the past eight years, helping us to transition towards a model that is both accessible and strong internationally, all the while taking into account the specificities of French higher education," she added.
With this label, Paris-Saclay University can continue its work toward the enhancement of its curricula for students and in support of its research programmes.