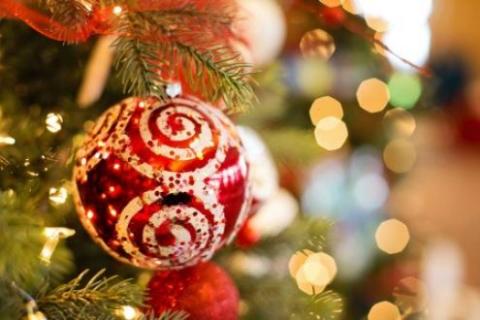 Activities during the holiday season: the International Welcome Desk's suggestions
Had there not been restrictions due to COVID-19, what would you have done during the holiday season? Discover new places, meet up with people, try new recipes... Despite the situation, it is still possible to do all these activities! The International Welcome Desk of Université Paris-Saclay has created a list of activities for its international public to spend great holidays.
Participate in international-oriented local initiatives
From December 21 to 23, the association Sciences Accueil will be hosting the "Christmas Menu", with various Christmas activities. Come watch movies, play games and have a glass of mulled wine (or hot apple juice)! If you wish to participate in one or several activities, don't forget to register for the event.
To participate in group activities, you can register on the Flips app, available on iOS or Android, which now offers 100% online activities. You can also specify your institution when you create your account, in order to be in contact with other people in the same institution!
If the concept of the Christmas menu made you want to cook, you can make simple and affordable meals with local and seasonal products. These recipes were created by a CROUS chef for the Festival des Solidarités 2020, and are available in French and English in this article on the website of Université Paris-Saclay.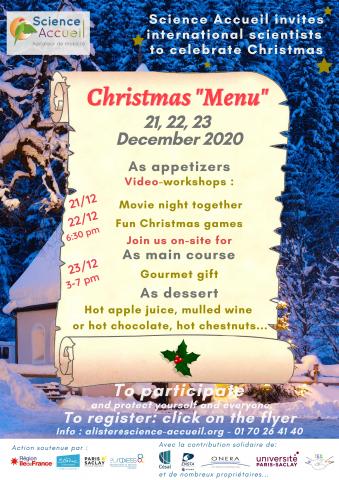 Discover new places from home
Whether you are staying at home because of the cold or because of the health situation, it is still possible to explore places all over the world. Thanks to Google Arts & Culture, you can visit different places as if you were there, from the seabed to a space shuttle.
If the 360° video of the space shuttle sparked your interest, you can visit the YouTube channel of Hervé Dole, researcher at the Institute of Space Astrophysics (Université Paris-Saclay, CNRS) and listen to his lockdown conferences every Wednesday at 3:00 pm.
Take the time to read and think
Whatever you may like reading, Université Paris-Saclay publishes content on many subjects in the field of science. You can get insights on a laboratory with the comic strip "Infiltrée chez les physiciens" - created by Héloïse Chochois on the initiative of Julien Bobroff, a researcher at the Solid State Physics Laboratory (Université Paris-Saclay, CNRS) -, peruse online resources and test your knowledge with interactive quizzes, or flip through the first issue of the magazine Pssst!
If you prefer a video format, you can watch the debates of L'Urgence des Arts on YouTube, live every evening from December 14 to 17 and also available afterwards.
We wish you a great holiday season and will see you in 2021!