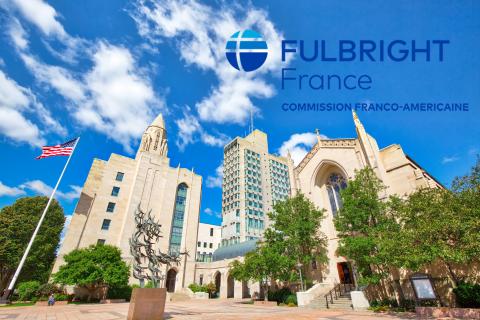 Fulbright - Université Paris-Saclay: A programme of excellence to foster doctoral mobility
The Fulbright excellence programme awards scholarships to enable doctoral students to carry out a research period between France and the United States. This year, through its partnership with the French-American Fulbright Commission, Université Paris-Saclay has become the fourth French university to offer these kinds of grants enabling students to carry out research and studies at an American institution. Read the stories of Imane Aïda, Sébastien Lafitte, Thomas Roulé and Mélissa Vincent, the four winners of this first edition of the programme, who will be flying out in January 2021 to pursue their American dream.
| | | |
| --- | --- | --- |
| Imane Aïda |   | Sébastien Laffitte |
| Thomas Roulé |   | Mélissa Vincent |
The Fulbright - Université Paris-Saclay programme
Fulbright is an exchange programme that awards research grants to a selection of doctoral students across the world. Since its inception, this programme of excellence has awarded grants to over 390,000 students and scientists, 60 of whom have won Nobel Prizes.
For the last 70 years, the French-American Fulbright Commission has been engaged in promoting the exchange of students between France and the U.S. On November 25, 2019, the Fulbright Commission and Université Paris-Saclay signed a partnership and launched the "Fulbright – Université Paris-Saclay" programme. Every year, the two partners jointly fund three incoming and up to four outgoing scholarships.
Selected doctoral students enrolled at one of the University's doctoral schools are given the opportunity to continue part of their thesis in the U.S., for a period of four to twelve months. The grants include, namely, visa fees, a lump sum travel allowance of up to € 1,200, and financial assistance of $ 1,500 to $ 2,000 per month. 
While the first doctoral students selected this year are preparing to leave in January 2021, the application process for the 2020-2021 cycle has already started. Interested students have until February 1st, 2021, to submit their application. 
To be eligible, a candidate must: 
-    Be a French citizen (dual French-American citizenship is not eligible)
-    Speak fluent English (minimum score of 92 in TOEFL iBT Test)
-    Be enrolled at one of Université Paris-Saclay's doctoral schools
-    Be invited to a public research centre or university in the U.S. (a letter of invitation must be included in the application file)
More information: 
https://www.universite-paris-saclay.fr/fulbright
https://fulbright-france.org/fr/bourses-fulbright-partenaires/programmes/doctorants/fulbright-paris-saclay
Contacts :
Emily Resnier, at the French-American Fulbright Commission
Amandine Duraz, at Université Paris-Saclay