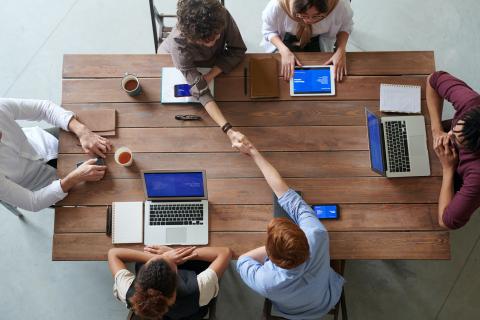 Within the framework of its collaboration with the Franco-American Fulbright Commission, Université Paris-Saclay is co-funding the stay of an American specialist over 2 to 6 weeks in 2021-2022, for teaching, curriculum design, and expertise missions.
Following the closure of French borders with non-EU countries, all mobility to and from non-EU countries and French Overseas Territories is currently suspended until further notice, unless for exceptional reasons. Contact the risk prevention security service with your mobility questions: securite.prevention@universite-paris-saclay.fr.
The Fulbright Specialist programme
Within the Fulbright Specialist programme, an American specialist may be invited for a period from 2 to 6 weeks for teaching, curriculum design, and expertise missions. The stay must take place between 1 October 2021 and 30 September 2022.
The programme supports projects that fall within the scope of teaching and training missions. The supported project must define concrete and achievable goals during the researcher's stay.
Examples of actions led by Fulbright specialists:
Organisation of a seminar or a workshop
Counselling services in teacher or professional training
Creation of a teaching or training programme and development of necessary material
Teaching at Bachelor or Master level
Assessment of needs for a programme or an institution

Eligibility criteria
Projects in the following disciplines are eligible:
Business administration, Public administration, Agriculture, Anthropology, Archaeology, Library science, Communication and Journalism, Law, American studies, Teaching Biology, Teaching Chemistry, Teaching Economics, Teaching Physics, Teaching Engineering Sciences, Informatics and Information Technology, Mathematics, Peace and Conflict Resolution, Public Health, Global Health, Science of Education, Environmental Science, Political Science, Social Sciences, Urbanism.
Projects involving contact with patients are ineligible.
The Franco-American Fulbright Commission encourages in particular projects on the following themes:
Management
Employment creation, talent management
Entrepreneurship
Public health / international health issues
Cyber safety and information technology
Media literacy and fighting disinformation
Public administration
Disaster response
Science, technology, engineering, mathematics (STEM)
Advantages
The Fulbright programme covers international travel costs, an honorarium which is directly paid to the researcher, as well as insurance.
Université Paris-Saclay covers housing expenses, national travel costs and meals.
Application
1. Identify a Fulbright Specialist
Two possible options:
You have already identified the specialist you would like to invite: in that case, specify their name in the project. In order to do so, the specialist in question must already appear on the list of Fulbright Specialists or submit their application to be selected. This may be done online with the World Learning agency: https://fulbrightspecialist.worldlearning.org/
You have not yet identified a specialist you would like to invite in the area concerned: In that case, the Fulbright Commission will look for a specialist whose professional experience, academic level, and linguistic skills match the requirements specified in the project.
2. Inform the Université Paris-Saclay International and European Affairs department (DRIE)
Inform the DRIE of your wish to invite a Fulbright Specialist by email to Amandine Duraz (amandine.duraz@universite-paris-saclay.fr). Remember to specify the theme of the project, the goals of the project, the main actions to be implemented, the name of the Fulbright Specialist (where relevant), as well as the planned dates of the stay.
3. Submit the application online by 1 May 2021
Projects must be submitted online on the World Learning site by 1 May 2021: https://worldlearning-community.force.com/FSPHost.
Guidelines in English to fill in the application are available in PDF format here. A French translation is available here.
A response will be received within 4 to 6 months.
More information
For more information, see the Fulbright Commission website and download the Fulbright Specialist programme flyer: