Published on
29 May 2018
Research
The Battleship Island, a Korean film by Ryoo Seung-Wan released in France in March 2018, recounts the appalling saga of thousands of Korean and Chinese forced to work in the undersea coal mine on the tiny Japanese island of Hashima during WWII.
Also known as Gunkanjima, this strip of land just off the coast of Nagasaki is only 480 meters long and 16 meters wide. A bed of top-rate coal was discovered beneath it in 1810, which the Mitsubishi Corporation mined for just over a century, from 1870 to 1974.
With first two, then four shafts dug to between 600 and 700 meters under the ocean, and galleries worked by several thousand miners, production ranged from 150,000 tons a year at the turn of the twentieth century to just over 400,000 tons in 1941.
Once an island prison, now a tourist attraction
Working conditions in Hashima were harsh and extremely dangerous. After the initial descent "into hell" deep under the sea, the miners descended further in carts down long sloping tunnels to reach the galleries. These were so low the workers had to carve out the coal lying down. As well as being full of firedamp—flammable gas—the Hashima mine was permanently under threat of flooding.
Gunkanjima was, for all intents and purposes, a prison, one from which it was almost impossible to escape. For a long time, it was grossly overpopulated, with upwards of 5,000 inhabitants in the late 1950s including teachers and merchants as well as the miners and their families. The tiny piece of land accommodated buildings, schools, a cinema, a hospital, sports facilities, and even a cemetery to cater to its singular, totally self-sufficient community.
In 2015, UNESCO declared the now abandoned island a World Heritage Site, a distinction that outraged the Koreans whose parents had been forced laborers there. Gunkanjima can be visited on tours that leave from Nagasaki port.
Hopes and fears in Whitehaven
In the United Kingdom, coal was extracted from several hundred meters under the sea as far back as the seventeenth century. Two such mines in West Cumbria, Whitehaven and Workington, closed in 1986, and the Mostyn Colliery in Wales closed in 1996.
There too, conditions were very dangerous. On July 28, 1837, for instance, the sea rushed into the galleries of one of the pits at Workington colliery, killing 24 miners and a number of horses.
For the last thirty years, plans have been under discussion to mine the coal buried deep under the sea near Whitehaven. The project forecasts production of over 3 million tons a year. Local environmental activists are highly critical of the methods envisioned for this deep coal mine. They fear its impact on the environment, especially in terms of climate change.
Yet this region, where the first submarine coal mine dates back to 1729 and has left indelible traces on the cliffs, is like all regions where coal has marked local communities: there are plenty of people who would be pleased to see coal coming out of the ground again, with some jobs into the bargain.
Controversial techniques
In Nova Scotia, Canada, 160 square kilometers of the very rich coalfield of Sydney are located under the sea, between Cape Breton and Newfoundland. Coal has been mined here for over two centuries. These mines have always been difficult to ventilate, especially in the galleries that descend almost 5 kilometers under water. With its massive coal reserves, Sydney has also attracted projects for offshore gasification.
This technique was once proposed to take advantage of the seam located under the village of Lucenay-les-Aix, in Nièvre, not far from the former mines of La Machine. The project was definitively abandoned in 2009 due to its high cost and nuisance potential, issues that are currently under discussion in Canada.
(France Info, June 2014)
The stuff of literature
South of Concepcion in Chile is the former mining town of Lola. The mine was closed in 1997 after 140 years of operation. Lola has since become one of the country's poorest towns, but memories of Lola's past are being faithfully preserved.
Former miners now run visits around their old workplaces more than 900 meters under the sea. Although Chiflón del diablo was one of the only mines in the world to be ventilated naturally, it was nonetheless extremely risky for all those working in it. Because of the salt water that infiltrated the galleries, the mine's operators had the supporting structure made with eucalyptus wood, more resistant but much more expensive than other materials.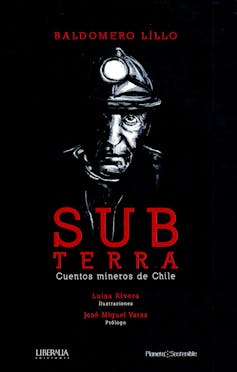 This mine served as the backdrop for the 2003 film Sub Terra, based on the collection of short stories published in 1904 by Baldomero Lillo—the Chilean Zola, himself a former miner.
Mining splits opinion
China's only undersea coal mine, Beizao, near Longkou in Shandong province, closed in October 2017. In thirty years, it had produced 8 million tons of coal. Yet extracting coal from the 350-meter-deep mine was deemed too expensive, despite its sizeable 18-kilometer-square reserves. The closure left some 1,600 miners unemployed.
Traditional methods of mining undersea coal may have been abandoned in the few countries where they were once practiced, but it is clear that large coal reserves remain unexploited beneath the oceans.
As technical difficulties made exploitation of these reserves less and less profitable, various projects have been developed to extract the coal using a smaller workforce… but have failed to reckon on the rising discontent of local populations or the determined response of ecologists.
Diana Cooper-Richet, researcher at the Centre d'histoire culturelle des sociétés contemporaines, Université de Versailles Saint-Quentin en Yvelines – Université Paris-Saclay
This article was originally published on The Conversation. Read the original article.