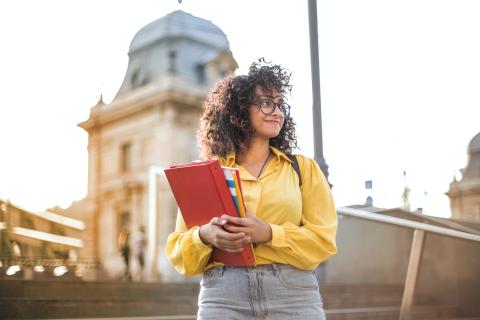 International Credit Mobility Erasmus+ programme
The International Credit Mobility (ICM) program funded by the European Commission enables students and staff members to benefit from a stay period in a higher education institutions located in 10 non-European countries (known as "partner countries"): Algeria, Cameroon, Cambodia, Colombia, Egypt, Georgia, Kenya, Lebanon, Palestine, Ukraine.
These Erasmus+ mobility grants enable beneficiary students to spend time abroad for an internship or a study period and thus develop their professional, intercultural and linguistic skills and ensure better employability.
Participating academic and administrative staff can benefit from a training or teaching period abroad, which enables them to acquire knowledge and know-how, and to enrich the pedagogical content of their training courses through the exchange of good practices.  It is also an opportunity to develop their professional network in the international academic and research world and thus to contribute to the modernization of their institution.
Finally, this project allows higher education institutions to develop their visibility and attractiveness internationally.
Students and staff members from the following partner institutions may apply for a mobility grant at Université Paris-Saclay for the 2020/2021 academic year.
Algeria :
Ecole Nationale Polytechnique d'Alger (Engineering)
Australia :
Cambodia :
Institute of Technology of Cambodia
University of Health Sciences of Cambodia
Cameroon :
University of Douala
Higher Institute of Advanced Technology and Management (ISTAMA)
Higher Institute of Health Professions (ISPS)
Colombia :
Universidad Nacional de Colombia
Universidad de Los Andes
Universidad Antonio Narino
Egypt :
Georgia :
Ivane Javakhishvili Tbilisi State Unviersity
Georgian Technical University
Ilia State University
Kutaisi International University
Kenya :
Technical University of Mombasa
Technical University of Kenya
Lebanon :
Palestine :
An-Najah National University
Ukraine :
V.N. Karazin Kharkiv National University
Kyiv National University
Kyiv Academic University
Oles Onchar University of Dnipro
United States of America :
Eligibility
More information to come
Recognition of mobility
Students in incoming study mobility will receive a transcript of grades justifying 30 ECTS for a one-semester mobility and 60 ECTS for a two-semester mobility. This transcript will be recognized by the sending university.  
Students in internship mobility will receive a certificate of achievement issued by the host institution and will obtain, after a defense in their home university, the credits provided for in their respective program.
Students and staff with disabilities
The Erasmus+ program pays particular attention to welcoming and supporting the organization of the mobility of people with disabilities. In order to meet the specific needs of an individual with a disability during his/her mobility, the granting of additional funding in addition to the Erasmus+ mobility grant aims to facilitate his/her participation. In order to know the eligibility of costs covered by the Erasmus+ programme, please contact the Directorate of International and European Relations.
Scholarship
The International Credit Mobility grant includes individual support to cover, only partially, the costs in the host country. The individual support is 850€ per month.
You also benefit from an allowance for travel expenses, the amount of which depends on the distance between your home institution and the University of Paris-Saclay :
Algeria: 275€
Ukraine : 360€
Lebanon, Palestine, Egypt, Georgia: 530€
Cameroon, Kenya, Rwanda, USA: 820€
Australie, Cambodia, Colombia: 1500€
Duration
Duration of Internship mobility: between 2 and 6 months
Duration of study mobility: between 3 and 12 months
One can only benefit from 12 months of funding, all mobilities included, during the same study cycle.
Terms of payment
Payment of the scholarship is made in two steps. A first payment will be made at the beginning of your mobility upon receipt of the mobility certificate (signature in the "Arrival" box). It includes the entire allowance for travel expenses as well as 80% of the individual support.
A second payment may be made at the end of your mobility. The amount of this second payment is calculated to the first day of activity and the departure date mentioned on the mobility/internship certificate.
If you do not comply with the obligations within the framework of the International Credit Mobility project, you will have to reimburse all or part of the grant you have been awarded.
We advise you to consult your home and stay university web site and to meet with the coordinator, in charge for the programme in your home university.
Application dates
Autumn semester (Arrival September/October): apply before May 15th
Spring semester (Arrival January/February): apply before October 30th
To apply for an internship or study mobility, make sure you have the following documents:
Passport identification page
A Curriculum Vitae
Motivation letter
Two last transcript records
English language certificate (minimum B2)
Letter of recommendation by a professor
For internship stays : you must have a liability insurance coverage
Learning agreement for studies or internship
Application
Please apply online for your mobility at Université Paris-Saclay : Apply for a mobility to Paris-Saclay University
You will receive a notification of acceptance or refusal within 4 weeks after your application.
Inclusion
The Erasmus+ programme pays particular attention to welcoming and supporting the organisation of mobility for people with disabilities or fewer opportunities. In order to meet the specific needs of people with disabilities during their mobility, the granting of additional funding on top of the Erasmus+ mobility grant is intended to facilitate their participation. To find out whether the costs covered by the Erasmus+ programme are eligible, contact the International and European Relations Department.
The inclusion bonus (study or work placement mobility) of €250/month in addition to the Erasmus+ grant may be awarded to incoming students in one of the following situations:
Disabled or suffering from a chronic illness
Belonging to a vulnerable social group as defined by the country of origin
Coming from a family with a low income or having a low income of their own
Having refugee or internally displaced person status in the country of origin
Parent of a young child
Belonging to a minority
This lump sum is awarded on the basis of a review of your application and the funds available. All applications must be justified and documented by you or your home university.
Contact
Anne-Lise Braesch - ICM project manager
Building 300 (Groundfloor) - International Relations Office
Funding
This project was funded with the support of the European Commission. This publication reflects the views only of the author, and the Commission cannot be held responsible for any use which may be made of the information contained therein.